The UTS Data Arena is a VR CAVE—a 360º panoramic, 3D stereoscopic, multi-user interactive theatre changing the way we view and interact with data.
Contact Us
For general Data Arena enquiries feel free to email us and we'll get back to you as soon as possible. For more specific technical questions please check out our wiki and frequently asked questions first.
Location
Data Arena Theatre
UTS Building Code: CB.11.02.101
81–117 Broadway, Ultimo. NSW 2007
Spatial Prototyping Laboratory (2020)
UTS Building Code: CB.02.11.133
81–117 Broadway, Ultimo. NSW 2007
Google Maps Plus Code: 458X+9Q Ultimo, New South Wales
How to Find Us
The Data Arena is located within the UTS Faculty of Engineering and IT (FEIT) at 81–117 Broadway, Ultimo. You can find us by walking down Broadway from the UTS Tower, past the UTS Central glass building. As you enter FEIT on level 2, walk past the elevators on your right, and you'll find the Data Arena entrance on your left.
The Data Arena is on the ground-floor of Building 11. Enter at Jones St.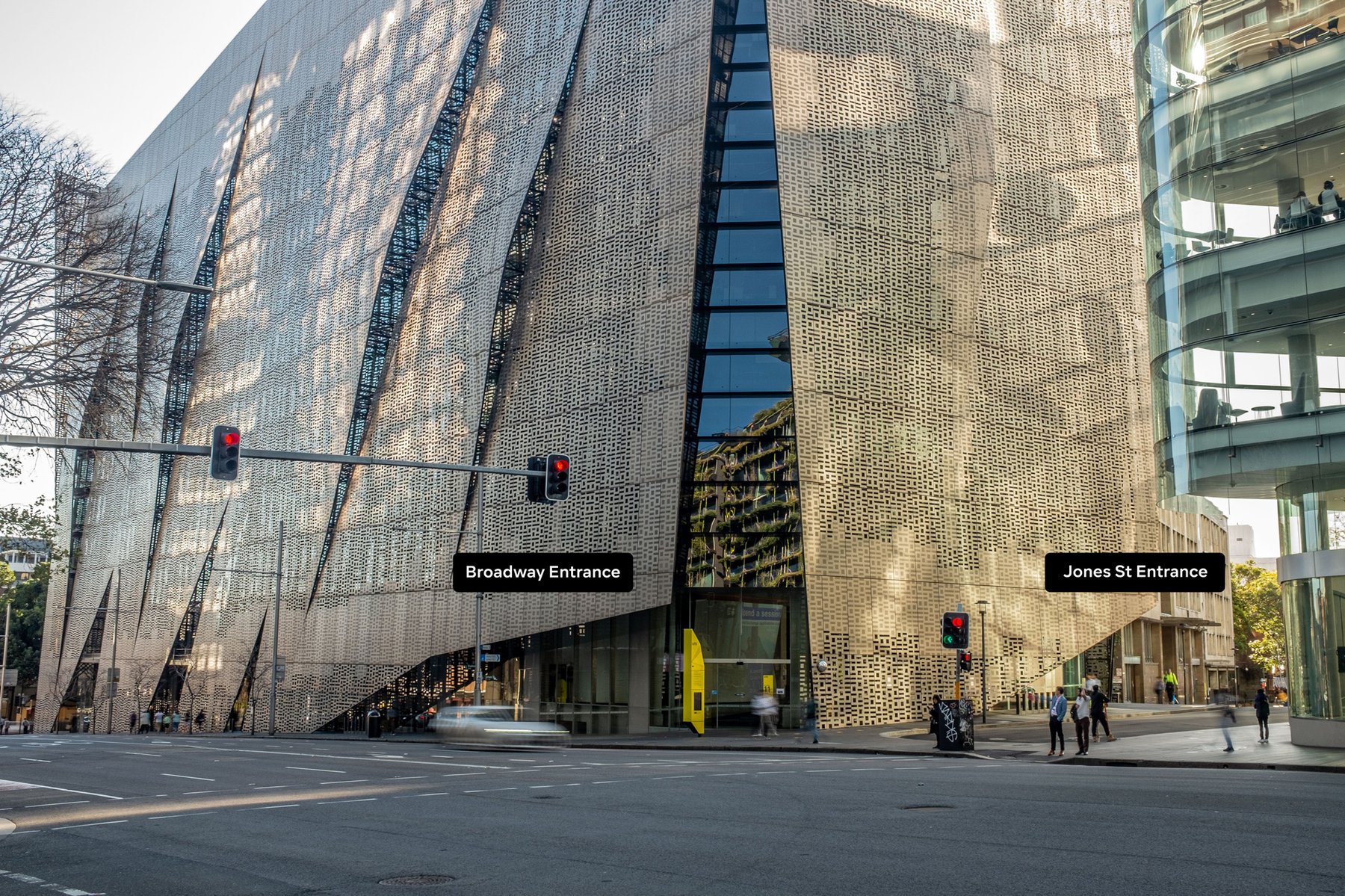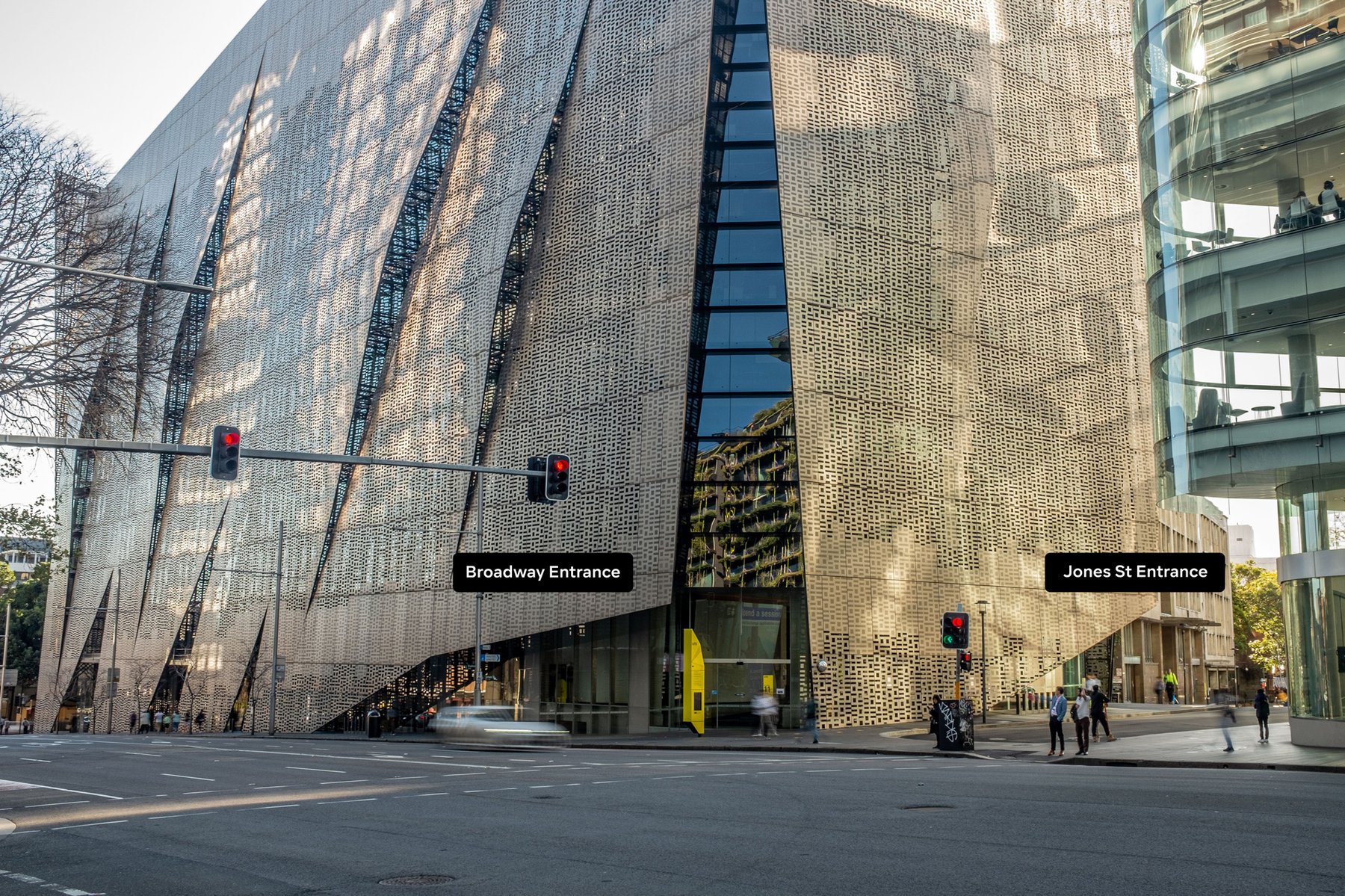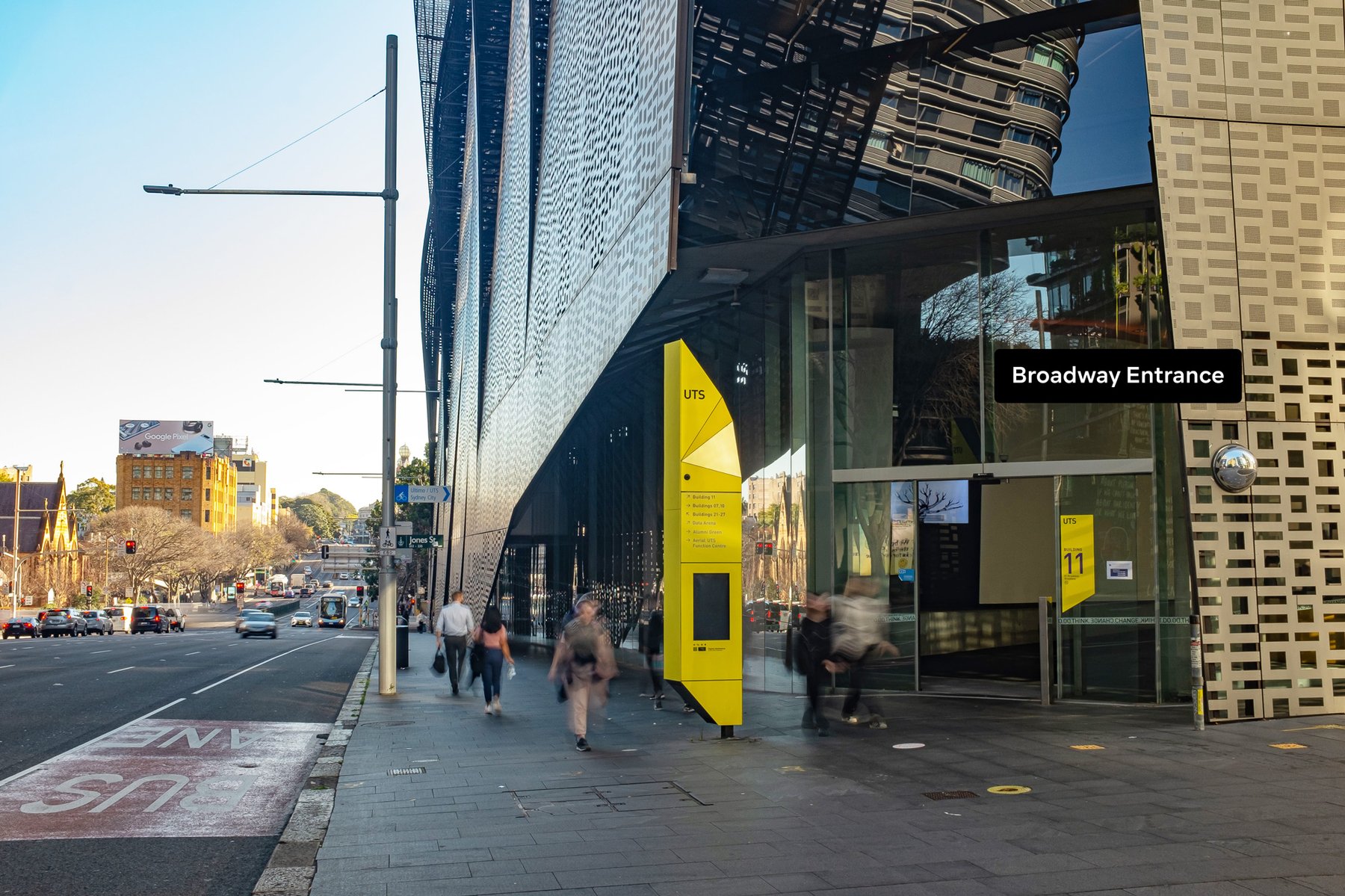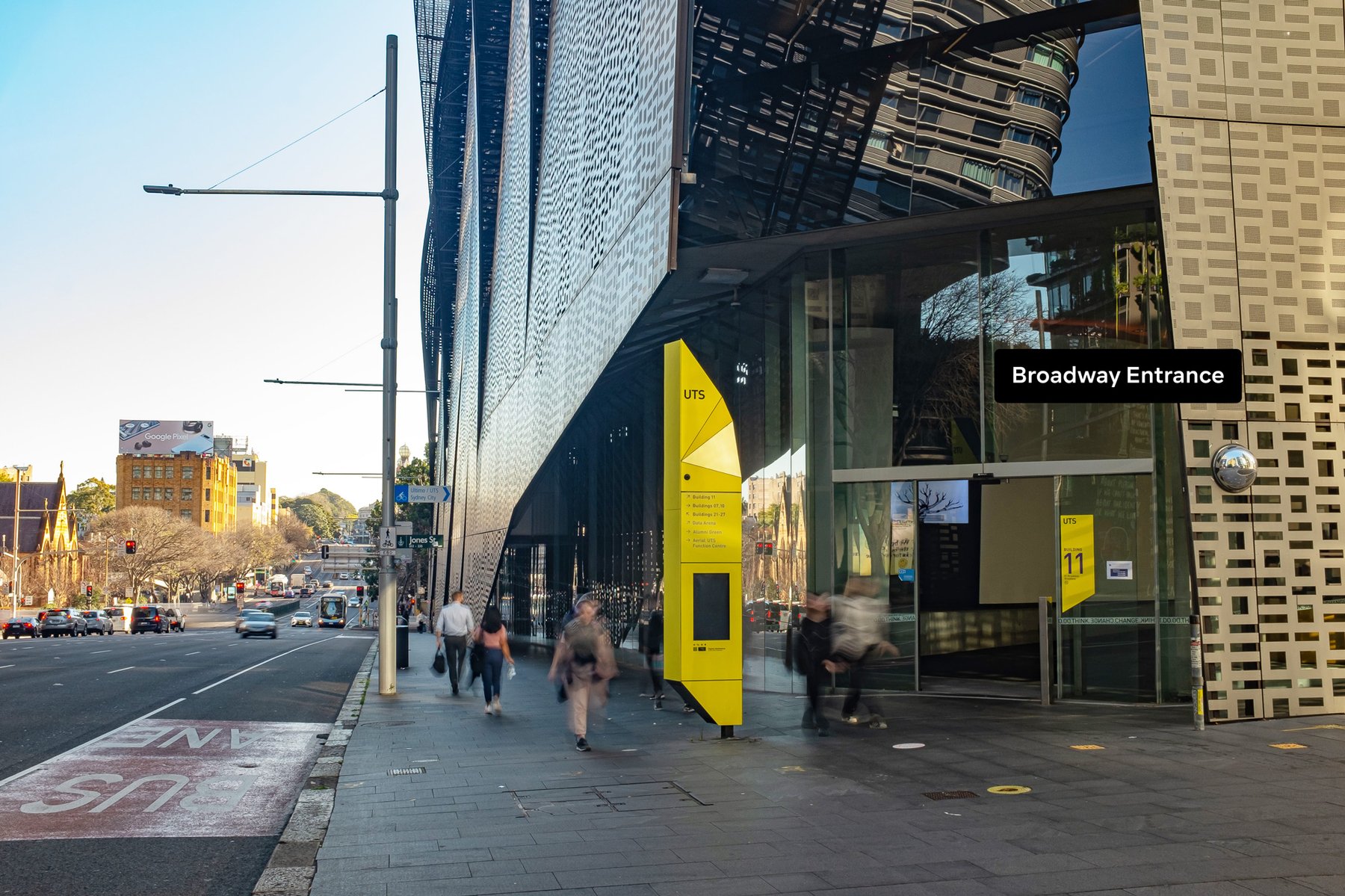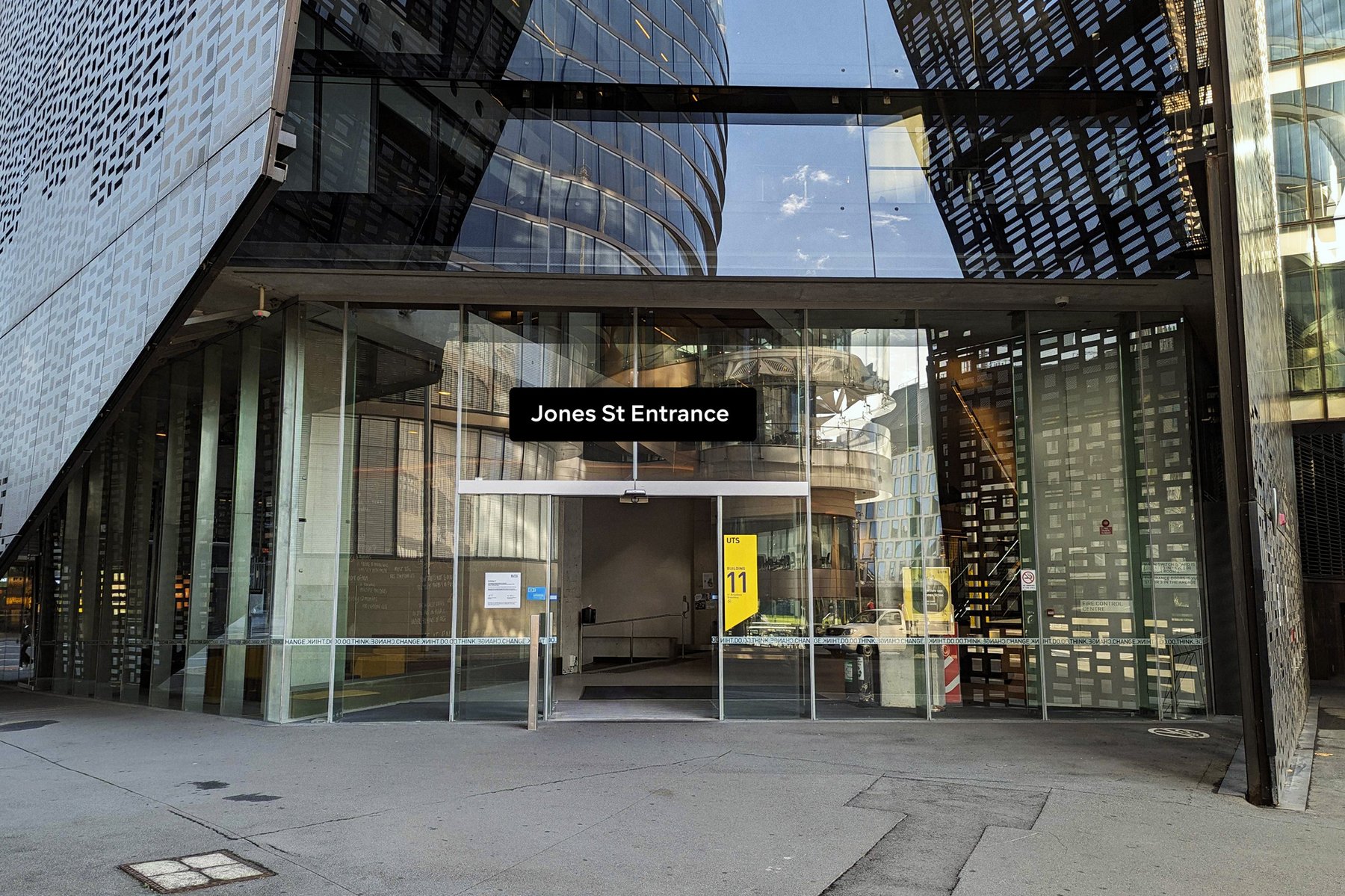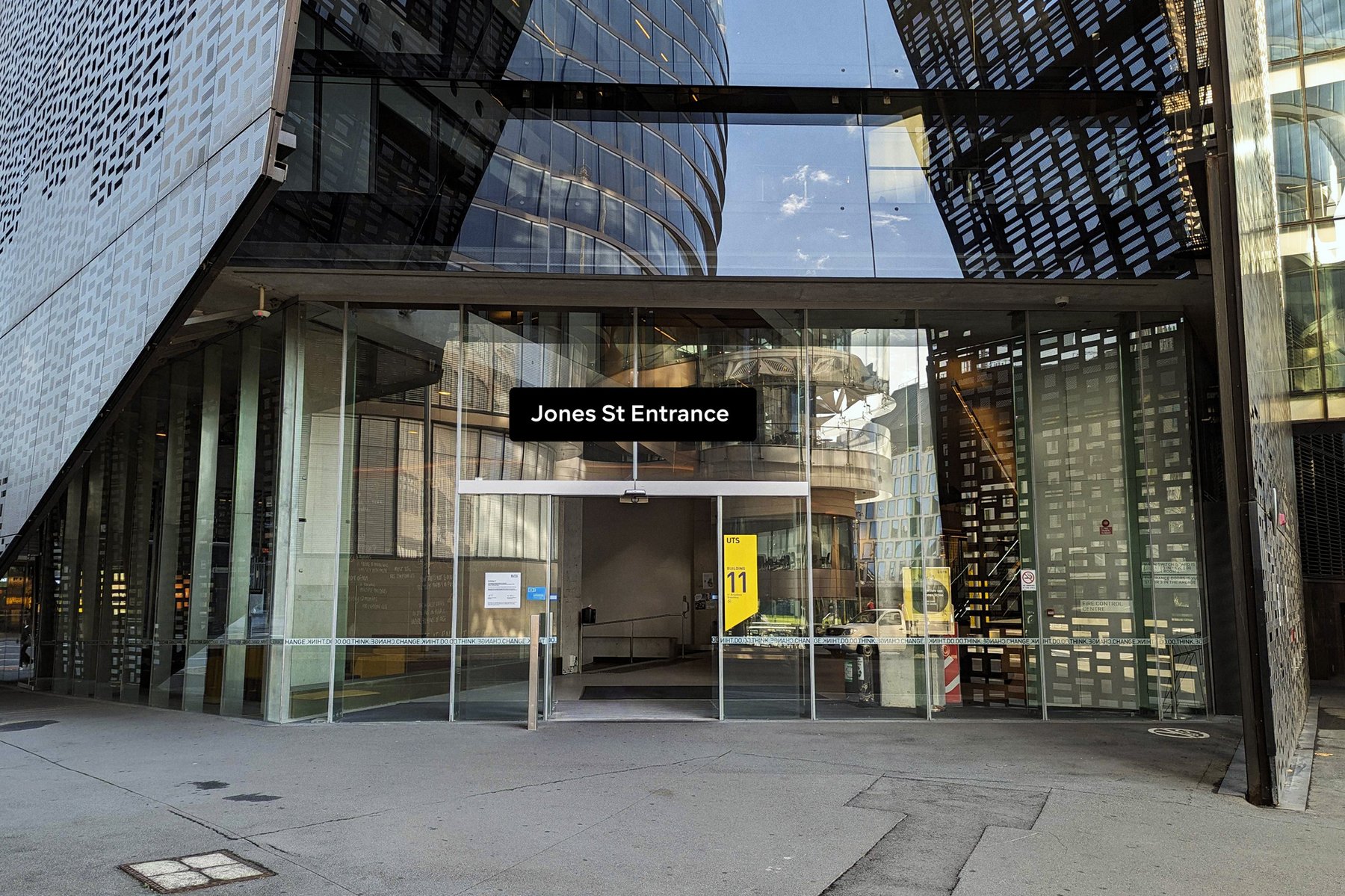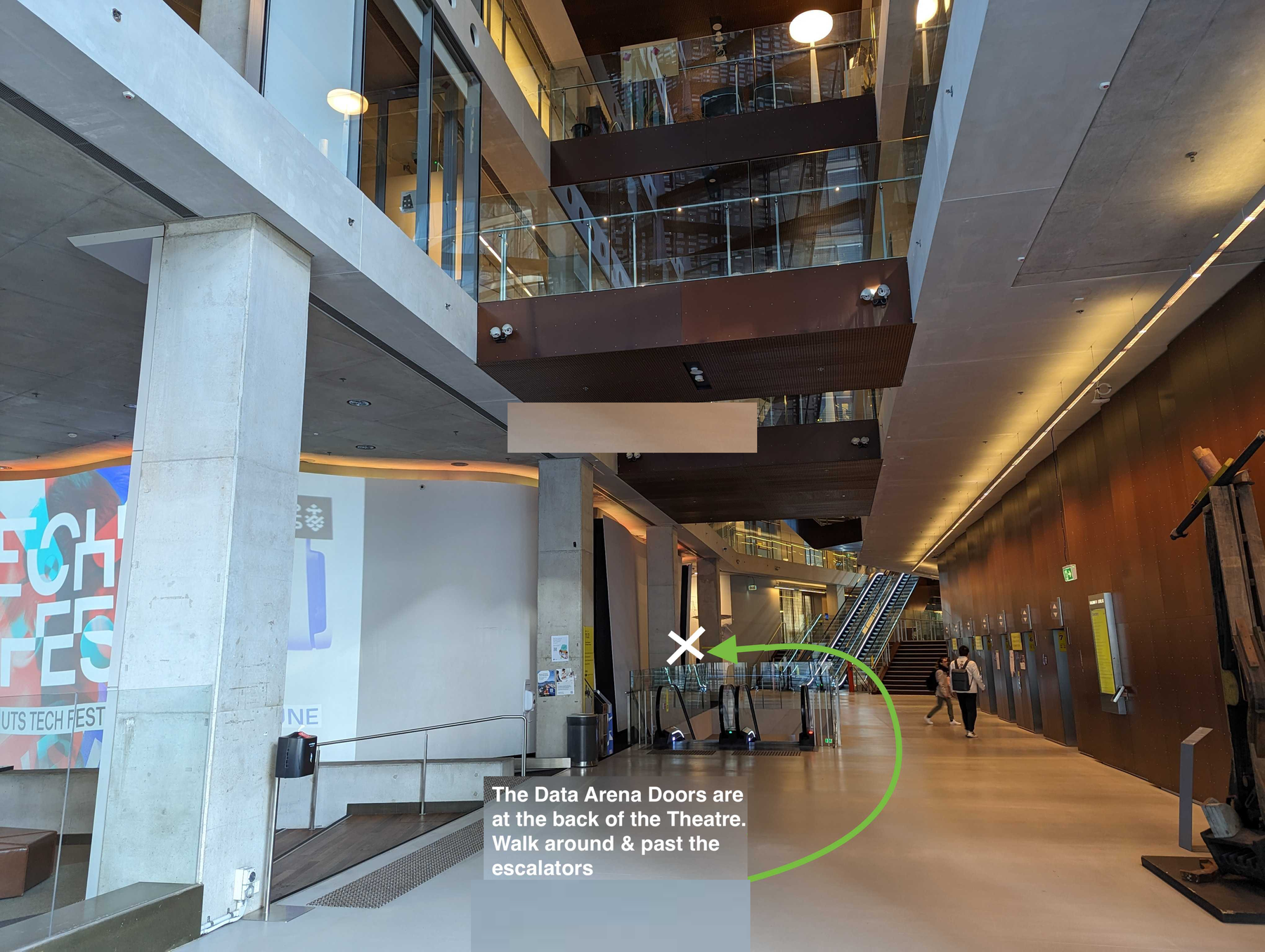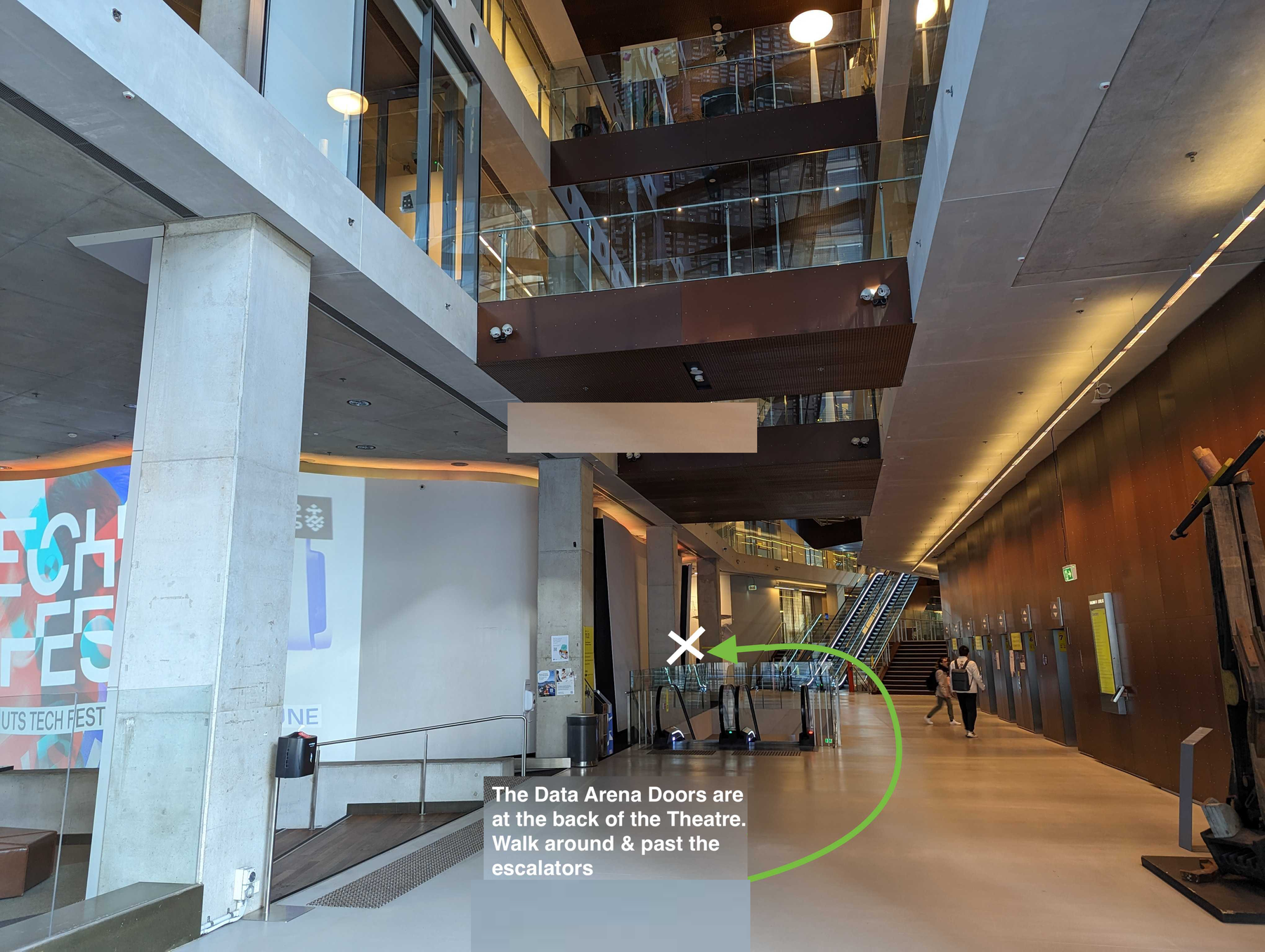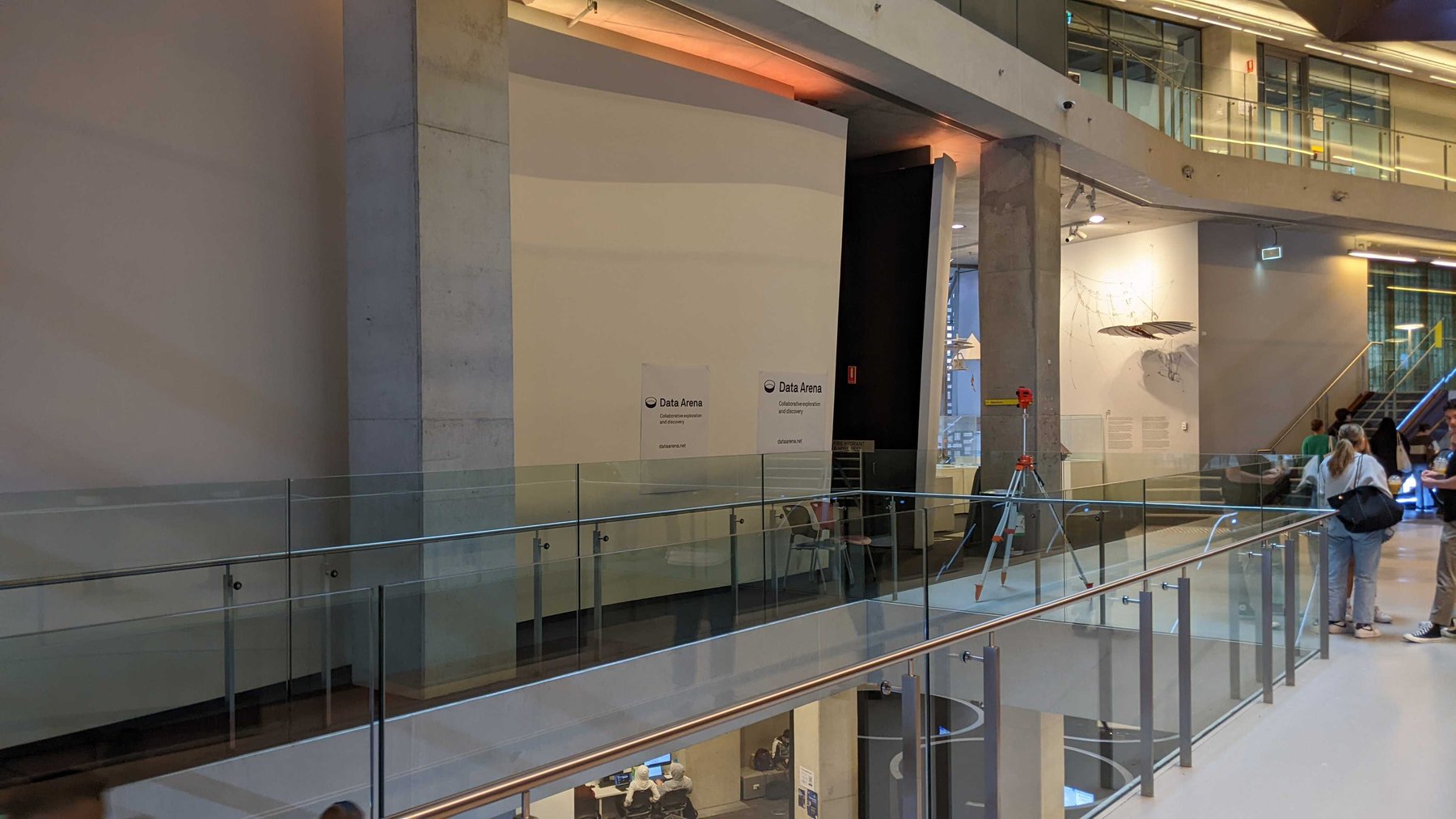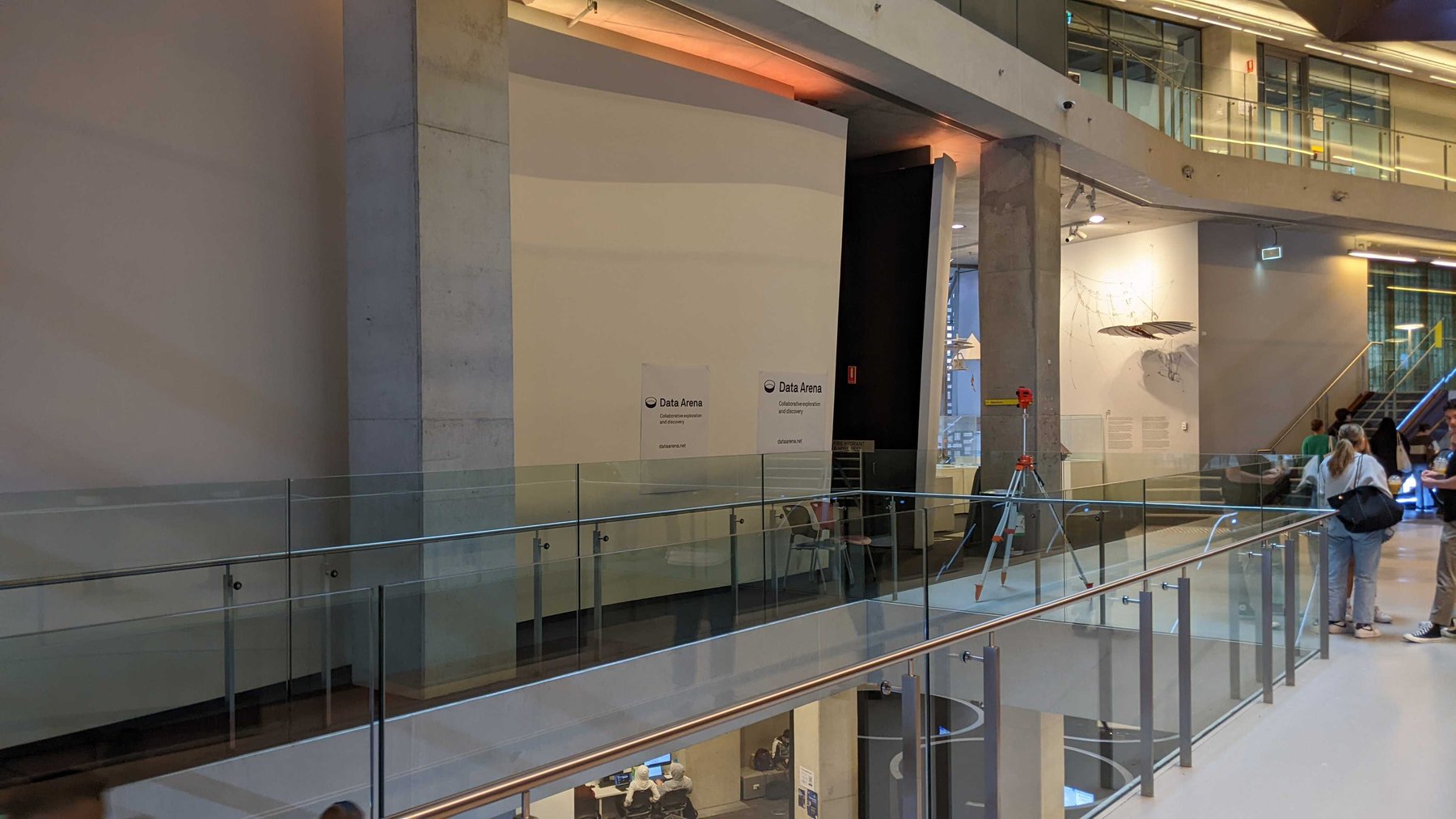 Walk past the escalators and elevators. The DA Theatre doors are at the back, on the left.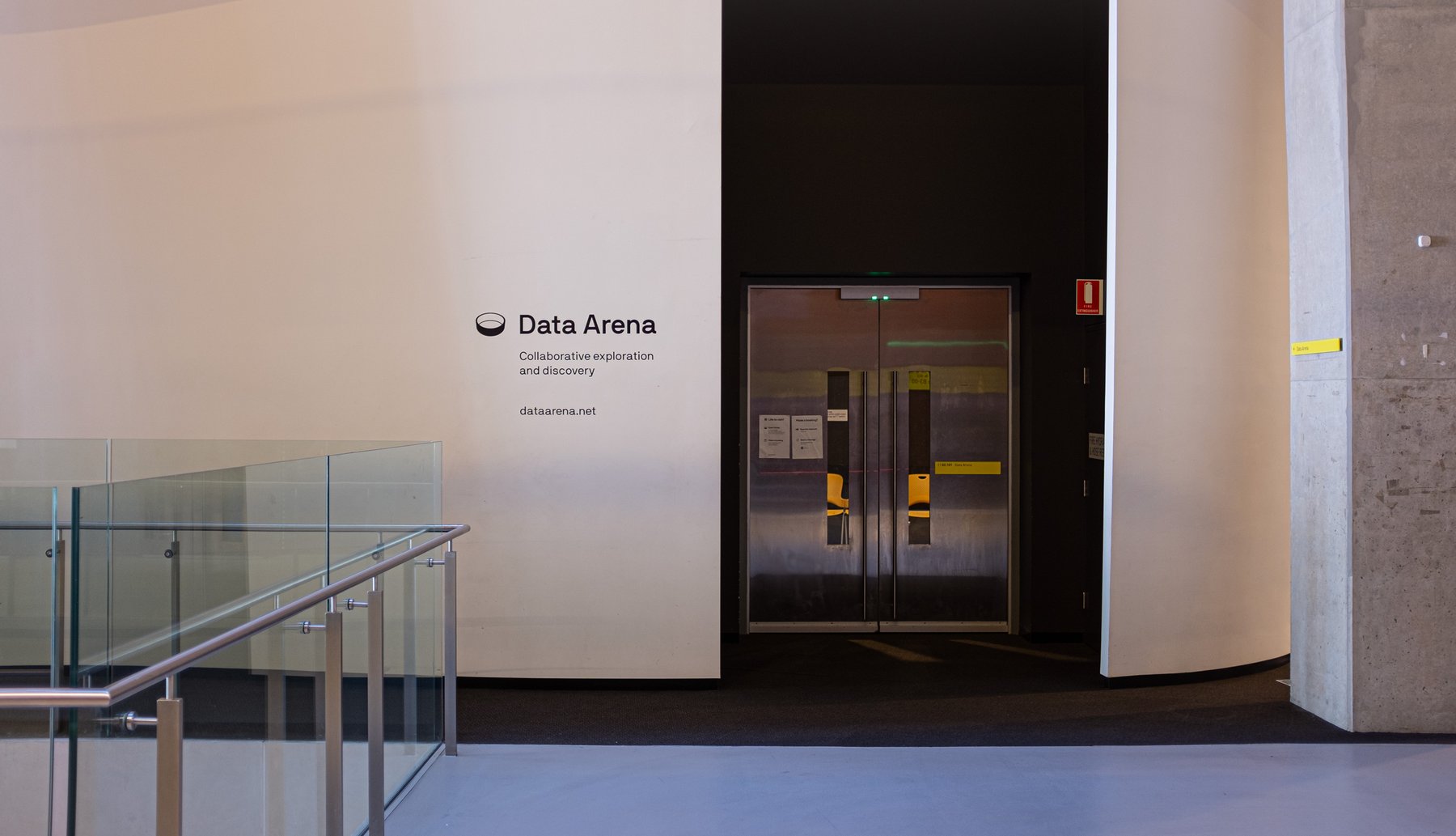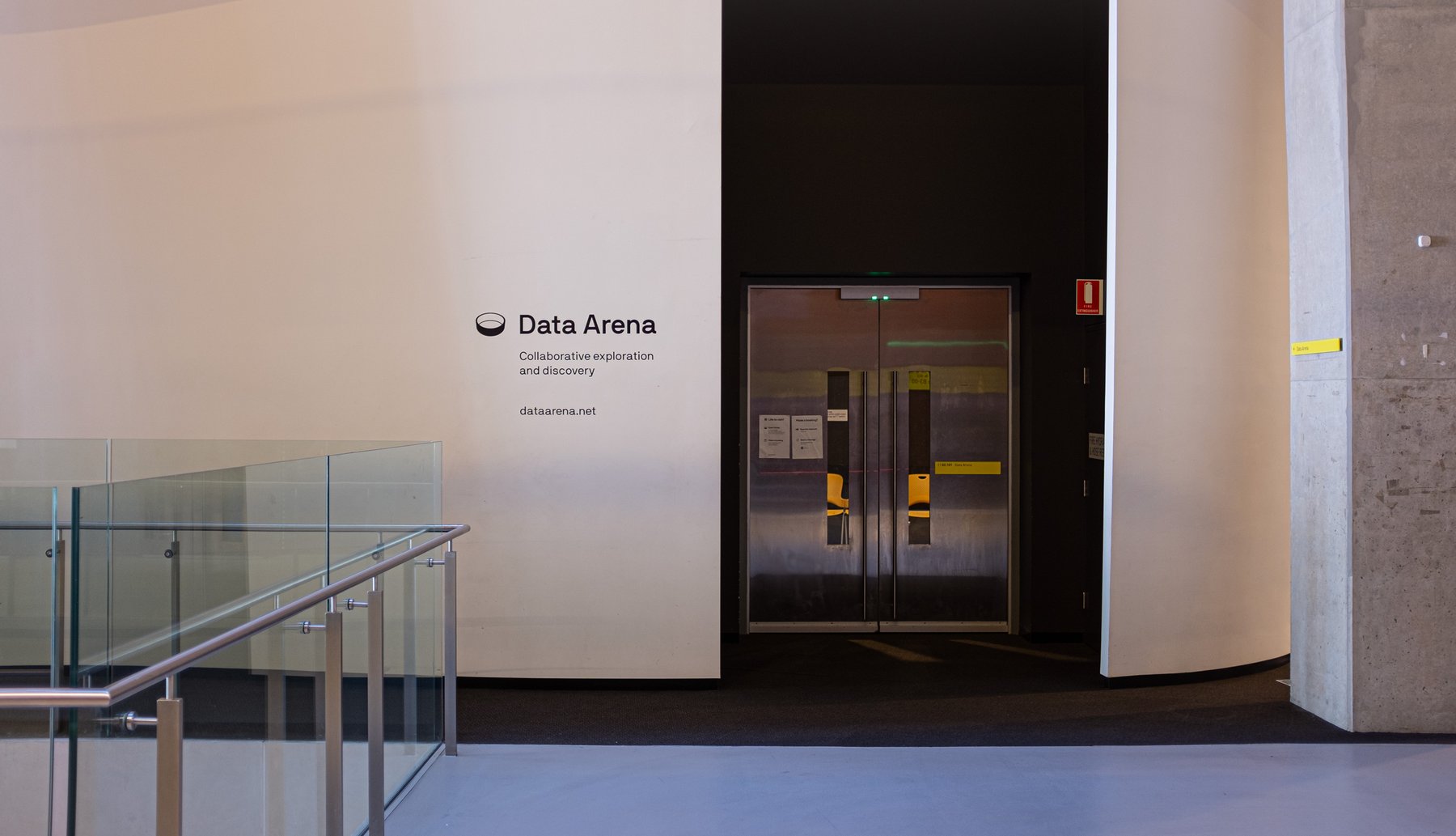 Our team
Ben Simons
Technical Director
Darren Lee
Software Developer
Thomas Ricciardiello
Visualisation Developer
Chris Hancock
Software Developer
The comfortable limit is 16 people, but the theatre can accommodate 20.
More than 20 people becomes a bit full for everyone.
Larger audiences are best split into separate groups. The DA Lobby can seat 20.
The DA can operate "open door" for continuous presentations which cycle, if the capacity limits are managed at the door. See catering options below.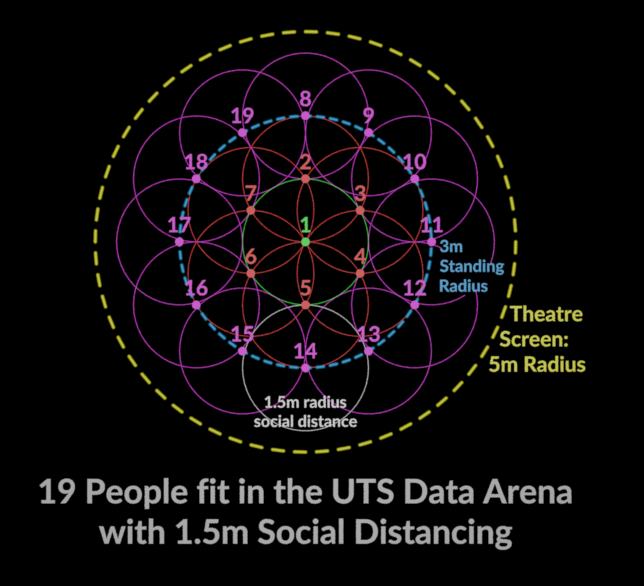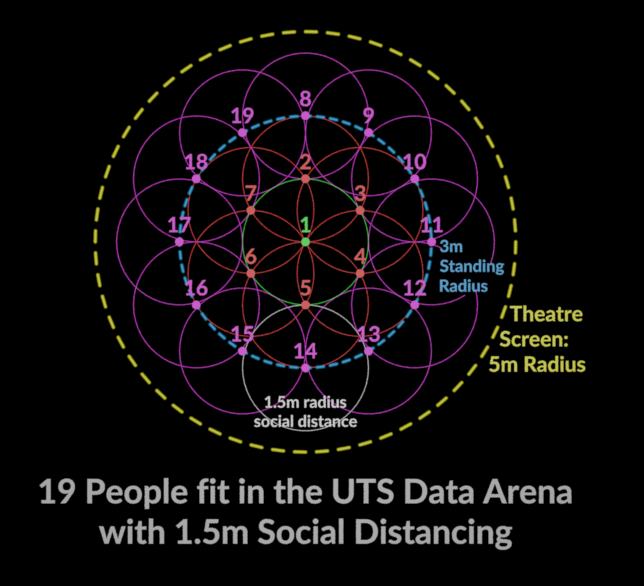 ---
Bookings
The Data Arena becomes heavily booked during standard work-hours Mon/Fri 9-5pm. We encourage you to book time, preferably 30mins or 1 hour during these times. Bookings can now be made on the DA Calendar.
---
Calendar
The Data Arena Calendar is public on the UTS Outlook Website. You can see current bookings by adding the following Calendar to your Outlook Calendar: dataarena@uts.edu.au
Internal (UTS) bookings are now taken on the DA Calendar
---
Costs
Access to the UTS Data Arena is FREE for UTS Researchers, UTS Staff, and UTS Students. If your booking involves an audience above 6, or significant support, please let us know - we have a DA Presentation Team. For large/on-going bookings, there might need be a small-charge back to your dept to cover Presenter costs (SPROUTS). One-off bookings are no problem.
Please discuss (email) support with us if it's your first time, or your visit is to see a narrated interactive presentation. UTS members can operate the DA themselves without support, following a short induction (30mins, hands-on).
There are FREE Open House Presentations every Thursday from 12–1pm.
Commercial Rates Available
There are special commercial rates for SME's and Start-ups, and full-rates for hourly & daily commercial use. Please contact UTS Facilities Hire for details.
---
Catering
If you're wanting to add catering to a planned event, there are a number of options on campus → Catering on Campus. You can easily incorporate catering when booking through UTS Facilities Hire
---
Open House — Thurs 12-1pm
As part of the UTS outreach to our local community, the Data Arena runs 2 x 30min Open House presentations every Thursday from 12-12:30 and 12:30 - 1pm. You're welcome to invite friends and family to come see the Data Arena. We'd prefer you to sign up for these, so we know you're coming, and can limit numbers per session.
Open House Signup here: http://bit.ly/dataarena
Open House sessions are not intended for regular UTS visitors related to some UTS Activity, or an introduction for Undergraduate Classes.In these cases please contact us to book your own session. If you provide some information about the nature of your visit , we can better-tailor a presentation to your interests.
---
Frequently Asked Questions (FAQ)
Still didn't find what you're looking for?
There's a list of answers to frequently asked questions in the Dive In section of this website. If can't find what you're looking for there, please contact us by email.
There's also a wiki
We welcome contributions to this website. If you have something to add, please let us know.