Presentations in the Data Arena
Alongside the Data Arena's 3D computer-cluster, there is one server setup to address the entire display all by itself. This computer is called Solo (because it operates alone). Solo uses the entire 360º Theatre screen. This makes it less powerful than the cluster, but more convenient for first-time users. Most pdf displays do not require high performance.
Solo is essentially a regular linux KDE Plasma5 desktop workstation - with 6 x HD screens, side-by-side. It displays slides, PDFs, images, movies -- as you would on any machine, except there's 10576x1200 pixels. The screen is 31 metres around its cylindrical circle, 4m high.
Modern display tools include Okular, LibreOffice, qpdfview (and many more) to view documents.
Lately we've preferred to use Google Slides (see below) for presentations. Google Slides can be made by you on your computer. Save the slides somewhere on the internet (your Google Account, or on oneDrive, or Dropbox, or Aarnet Cloudstor, etc). Then, in the Data Arena this is nothing to download. Your slides are still there where you saved them. Open a web-browser on Solo (Firefox or Google Chrome) and enter the URL for your slides. Done. They're on the DA Screen.
The Data Arena has some standard templates for Google Slides which guide you to on the size & layout to suit 6 x HD Screens side-by-side.
Custom bash scripts let automate layouts in the Data Arena. The Data Arena staff can assist you with these. It's best to book some time to set things up.
To get started, upload and transfer your presentation files to us, then make a booking to start testing.
---
Create a presentation with Google Slides (now preferred)
Google Slides is a fantastic web app to create slide-based presentations with many features you can find in native applications such as Microsoft PowerPoint or Apple Keynote. Google Slides presentations can be shared and collaborated on in real-time, and easily viewed in full 360º in the Data Arena. Get started with this quick guide below.
Start with the Data Arena template
The Data Arena Template is a helpful starter for your presentation. It is pre-formatted to the resolution of the Data Arena and includes guides to indicate where the frame of the Data Arena entranceway will be relative to your content. If you're a UTS staff member, log in to Google Slides with your UTS account and follow the steps below.
If not, you can access the template here.
From the start page, select the Data Arena Template from the UTS Template Gallery


The presentation template file should look like the screenshot below, which includes a single slide formatted to the resolution of the Data Arena (currently 10576 x 1200).
If they're not visible already, enable guides by selecting View → Guides → Show Guides. The template includes vertical guides on the left and right which indicate the sides of the entranceway door frame. Avoid putting important content in this area as it won't be visible when the door is left open.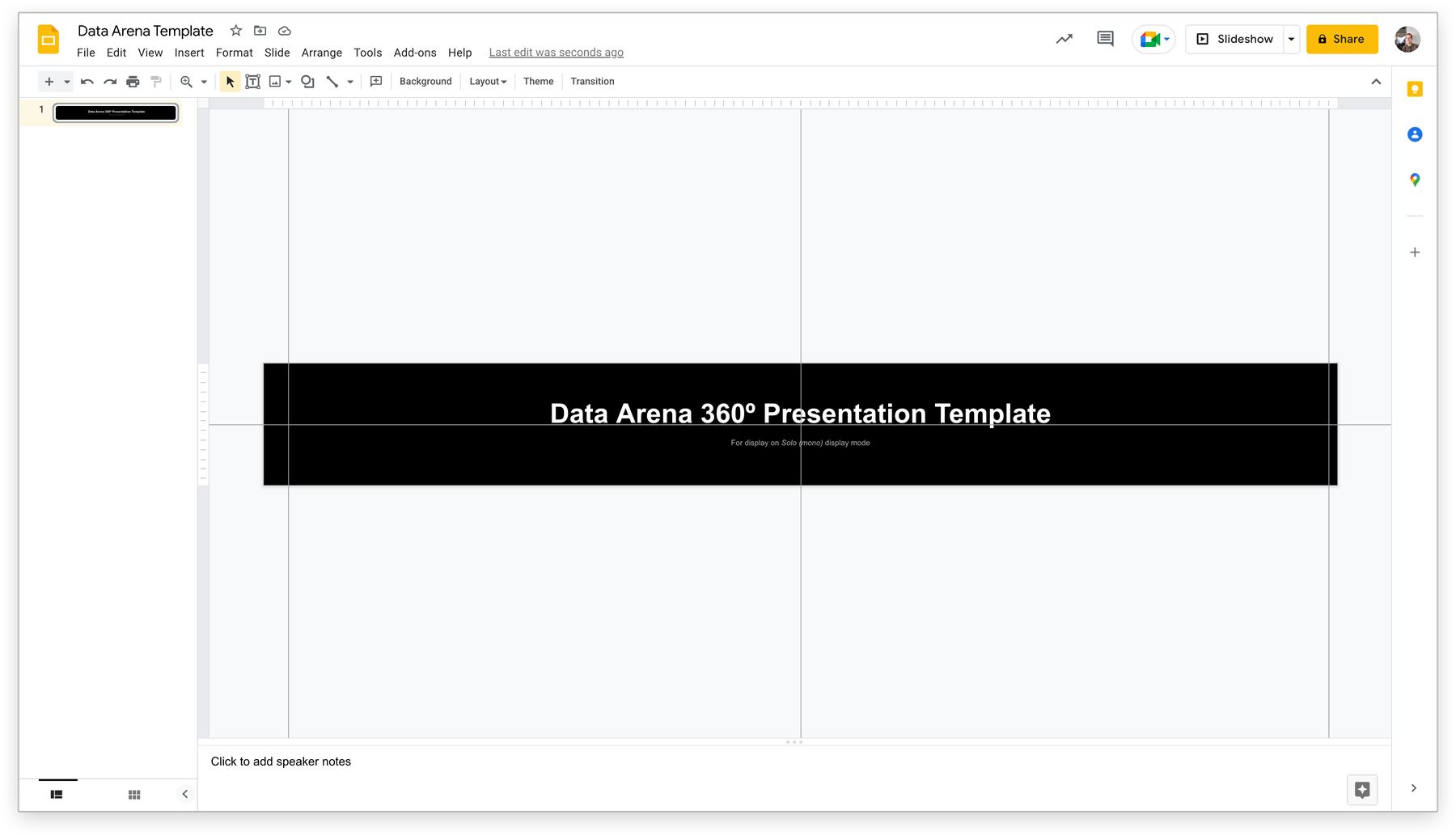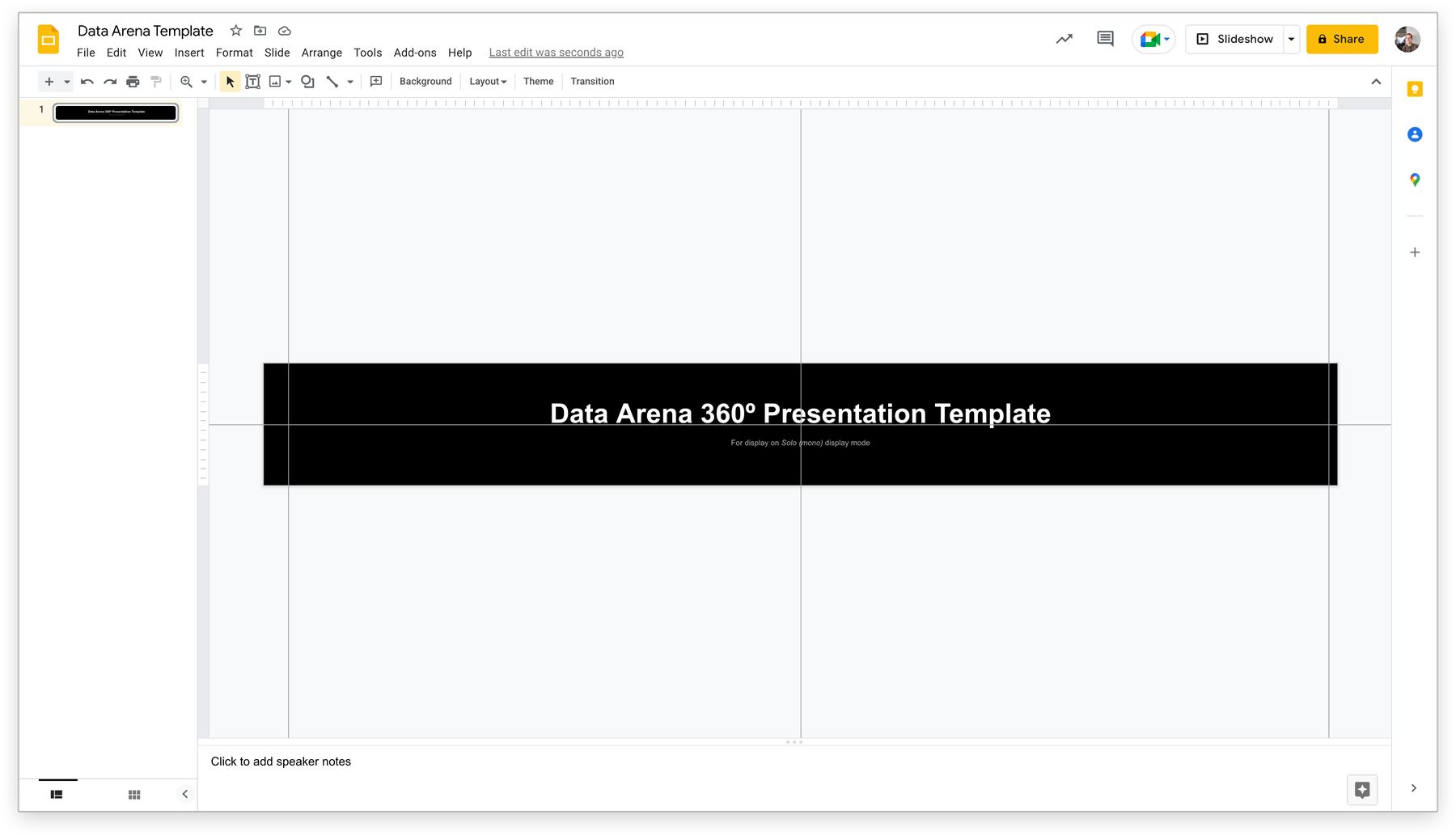 Start from a blank file
Preparing a presentation from scratch only requires a few simple steps. To get started, create a new Blank presentation.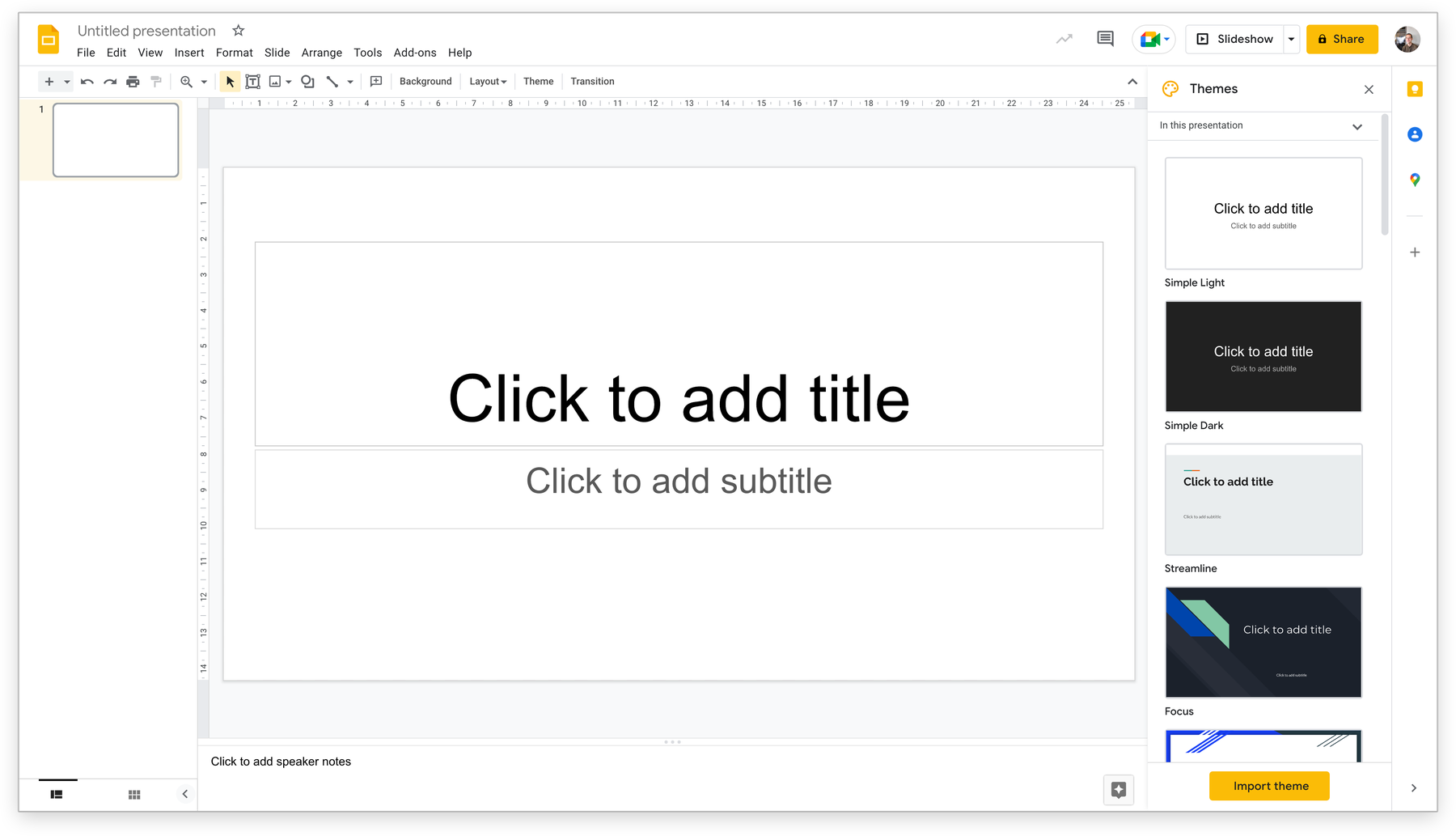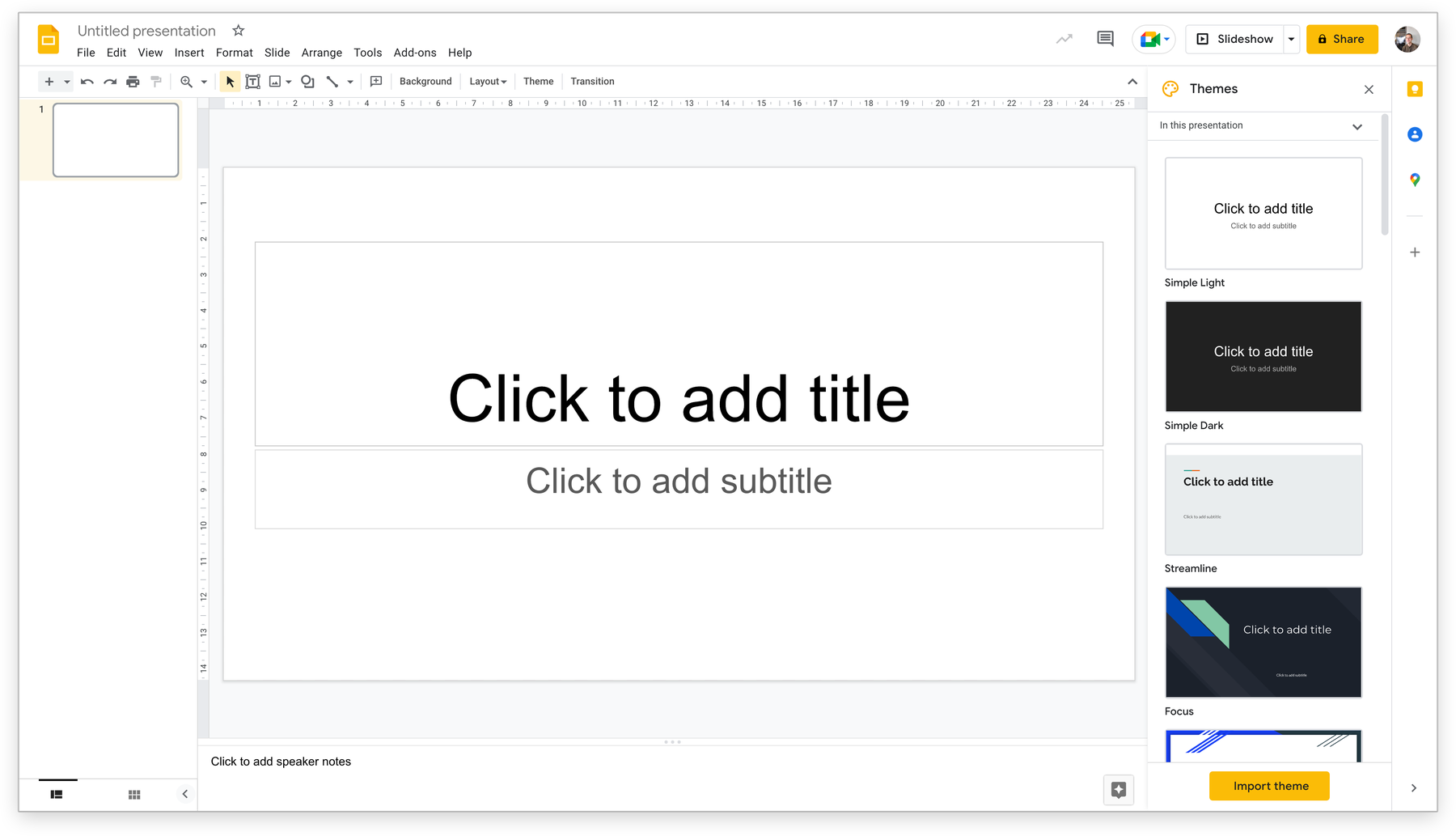 To format your slides, head to File → Page Setup and set a custom resolution of 10576 x 1200 pixels.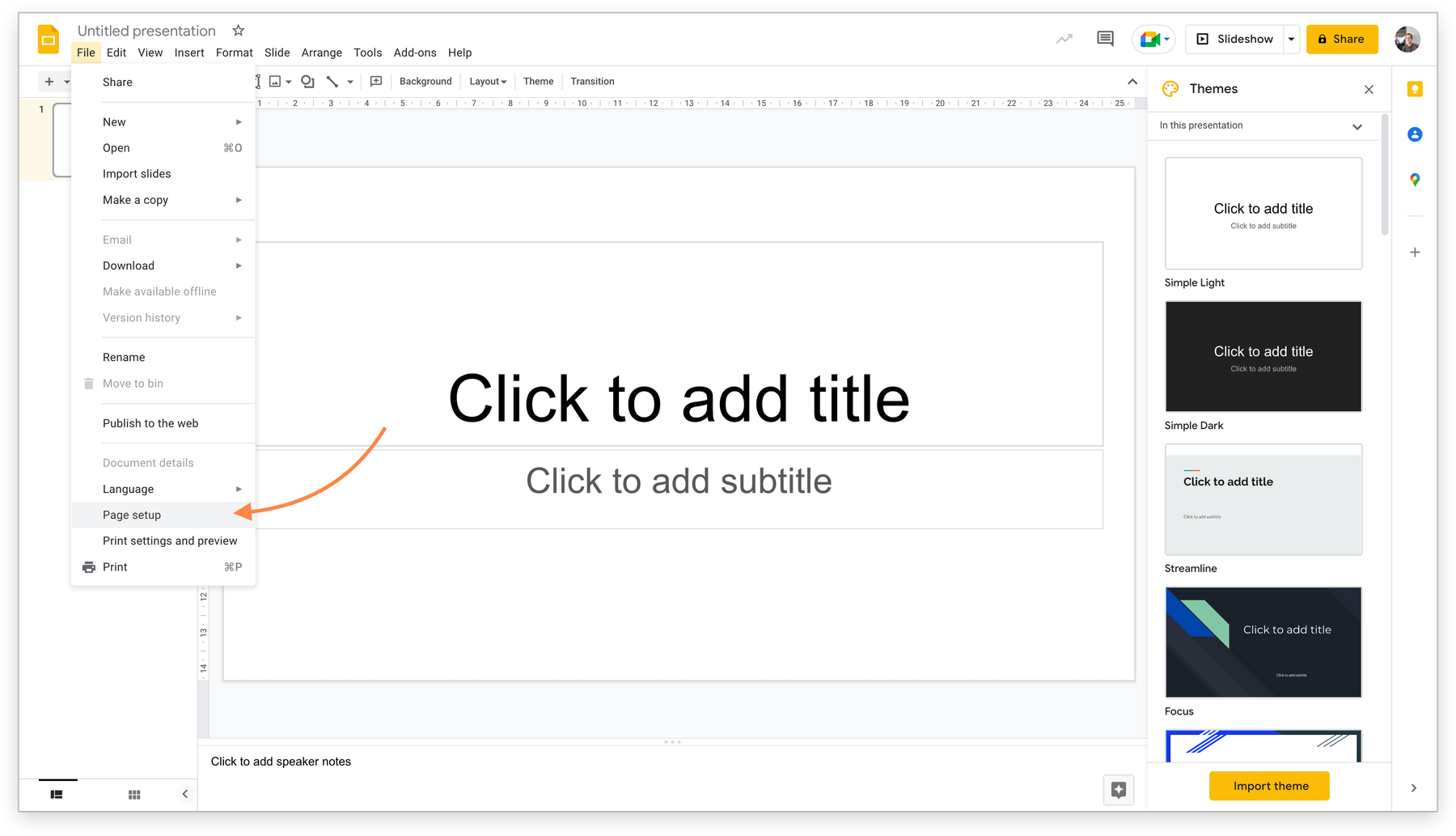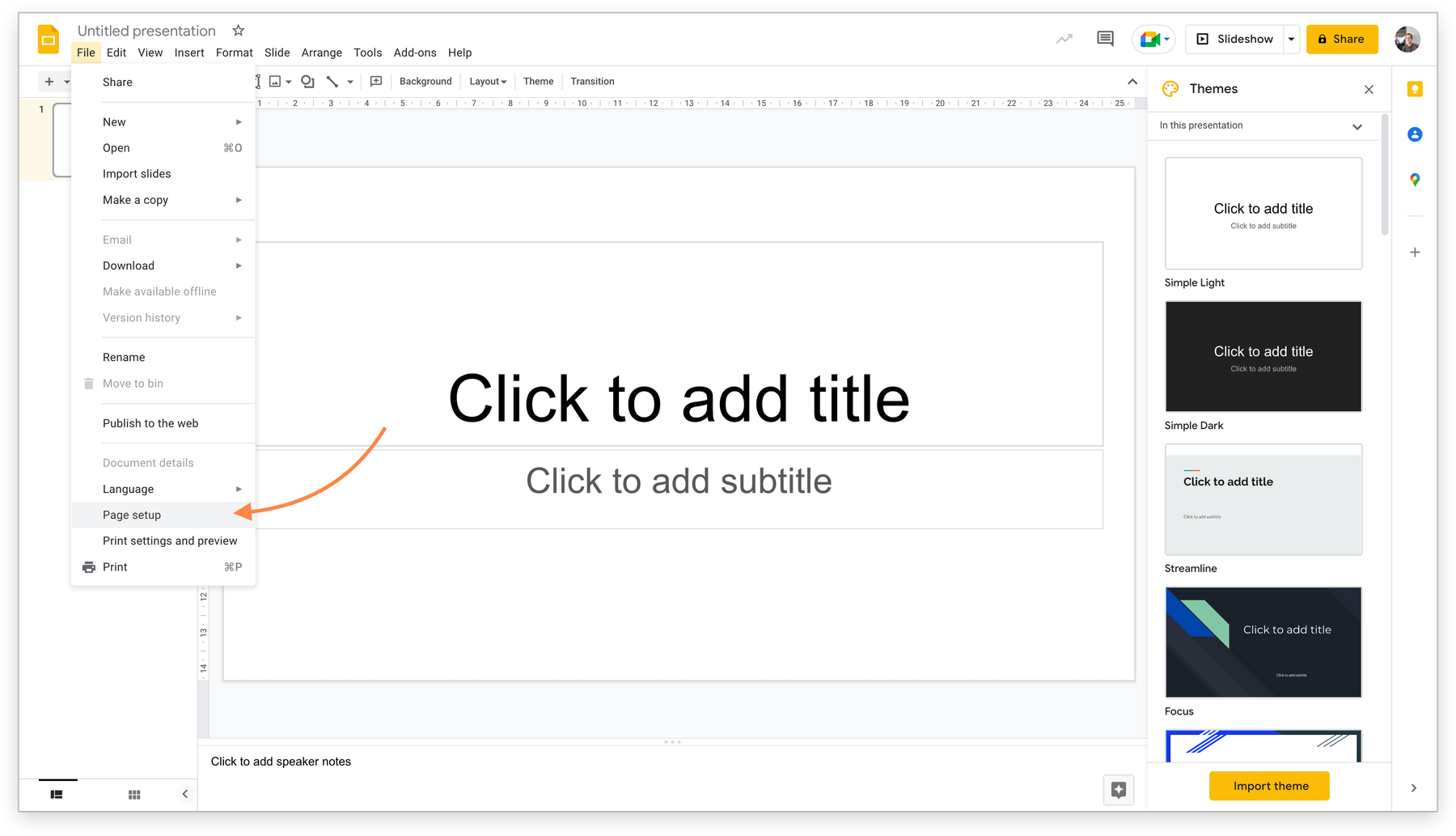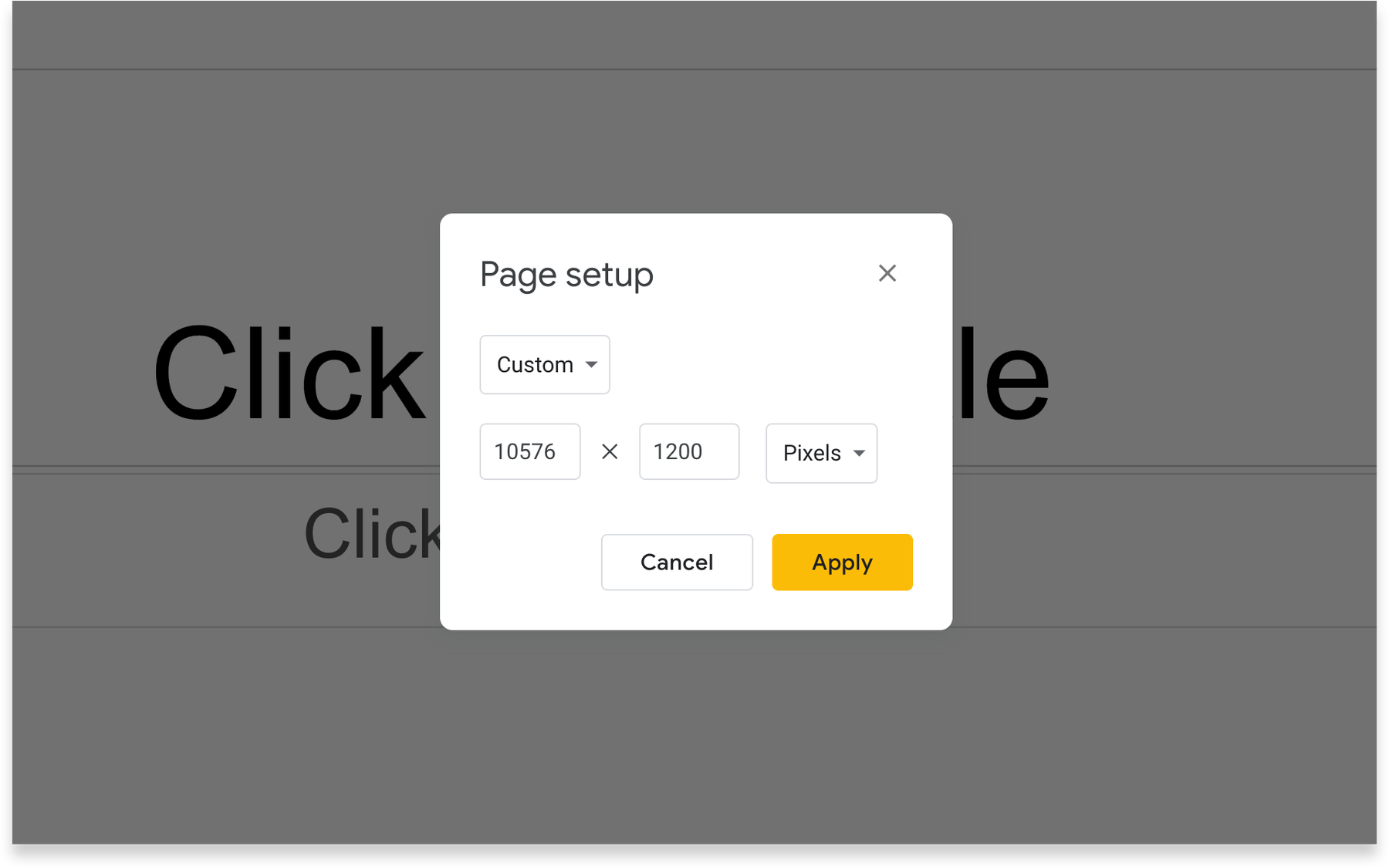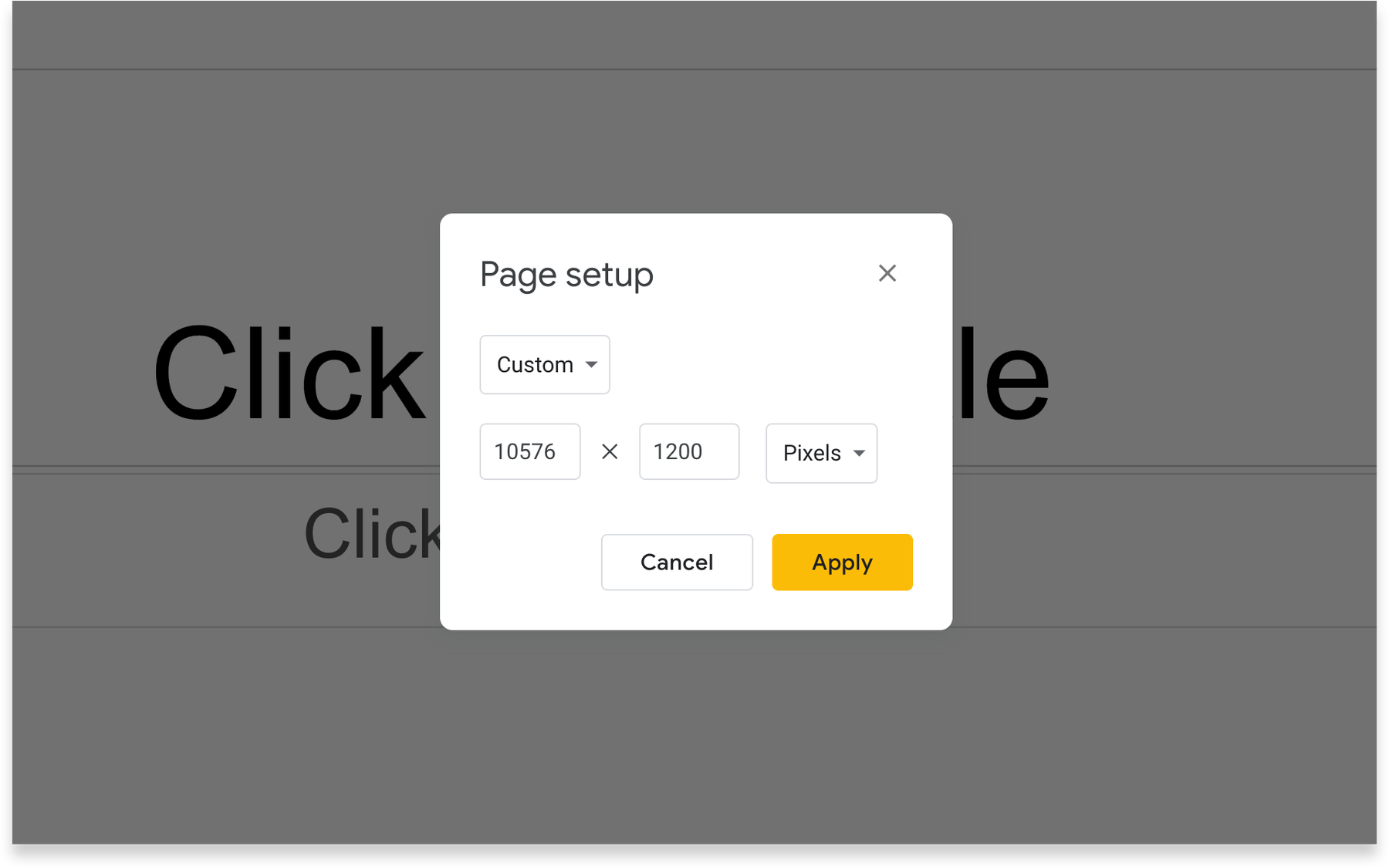 Your presentation format should now look like this...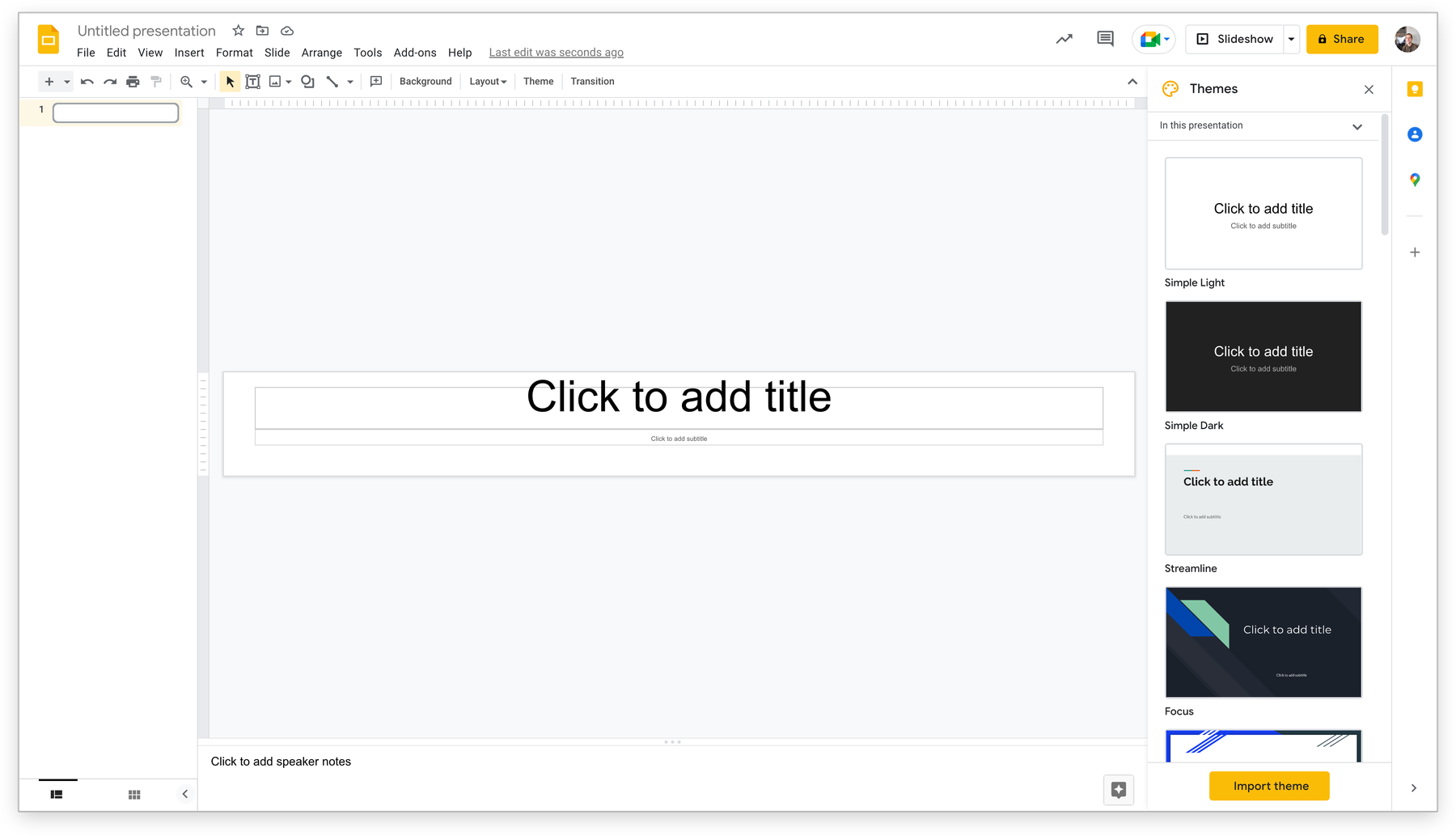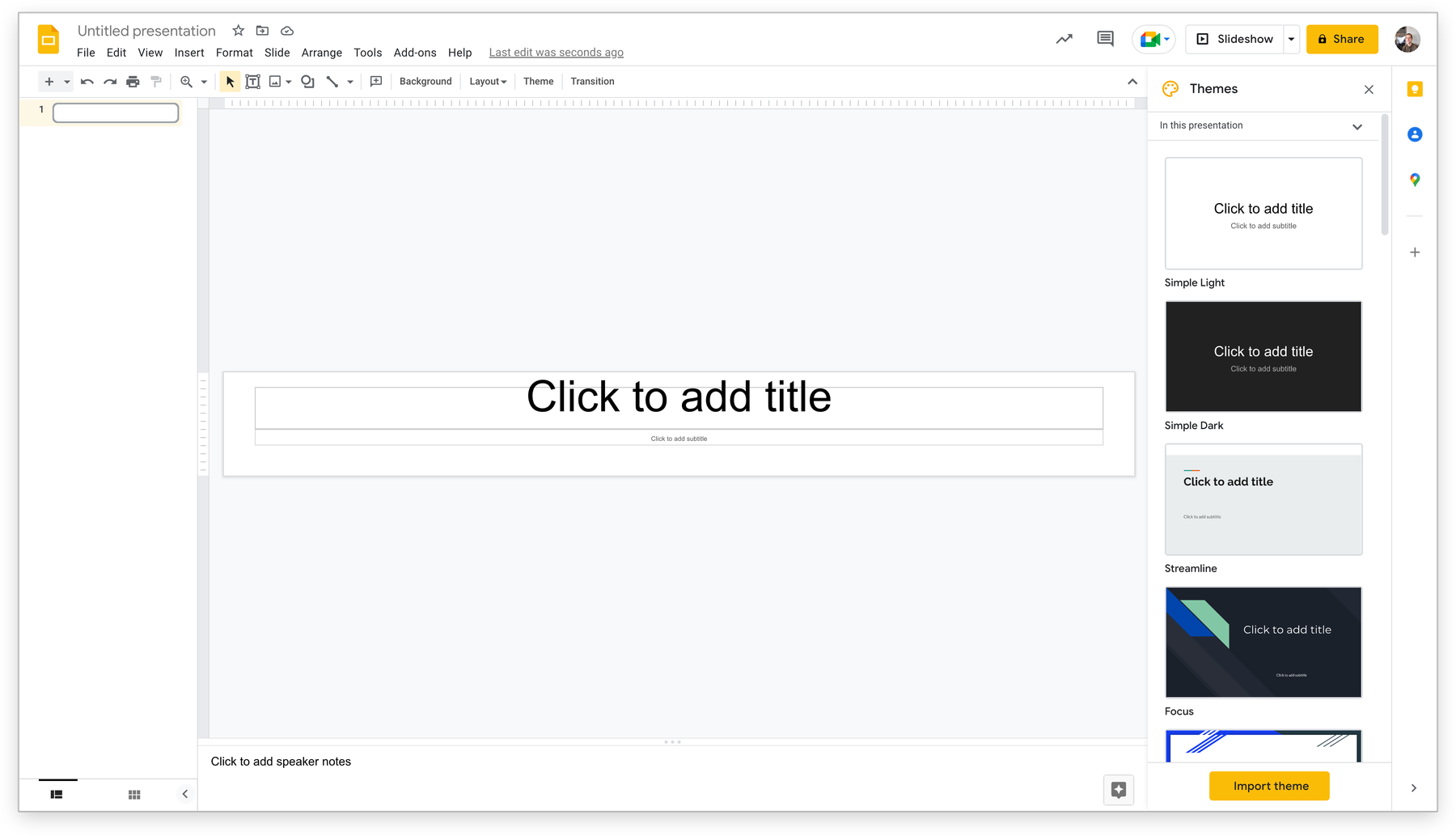 Zoom and navigate the viewport
With such a large resolution, you'll have to be significantly zoomed out to see the entirety of your slides. To zoom in and out of your slides, select View → Zoom. Remember the keyboard shortcuts for quick navigation. Once zoomed, you can use the horizontal and vertical scrollbars to pan and navigate your slides.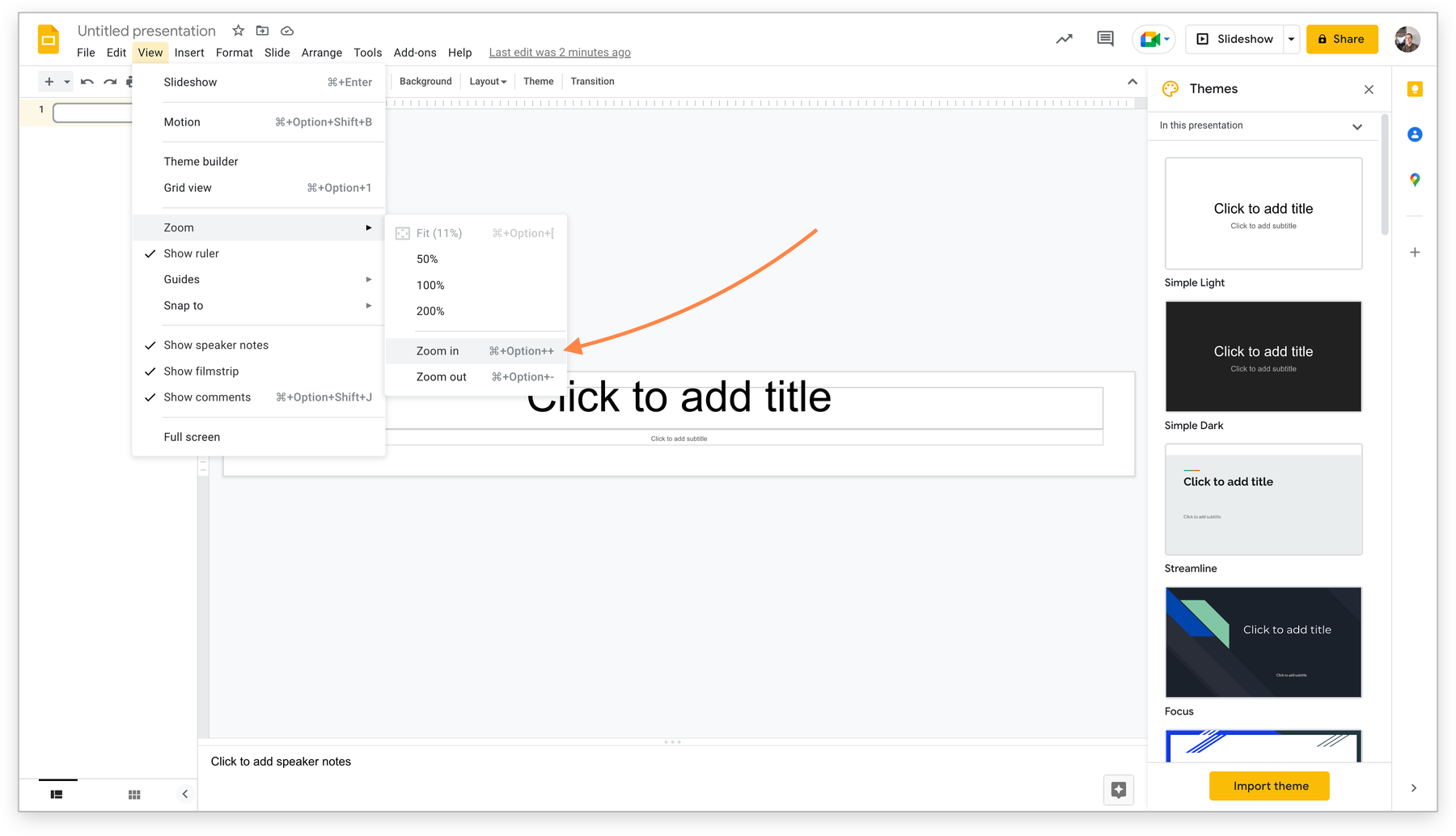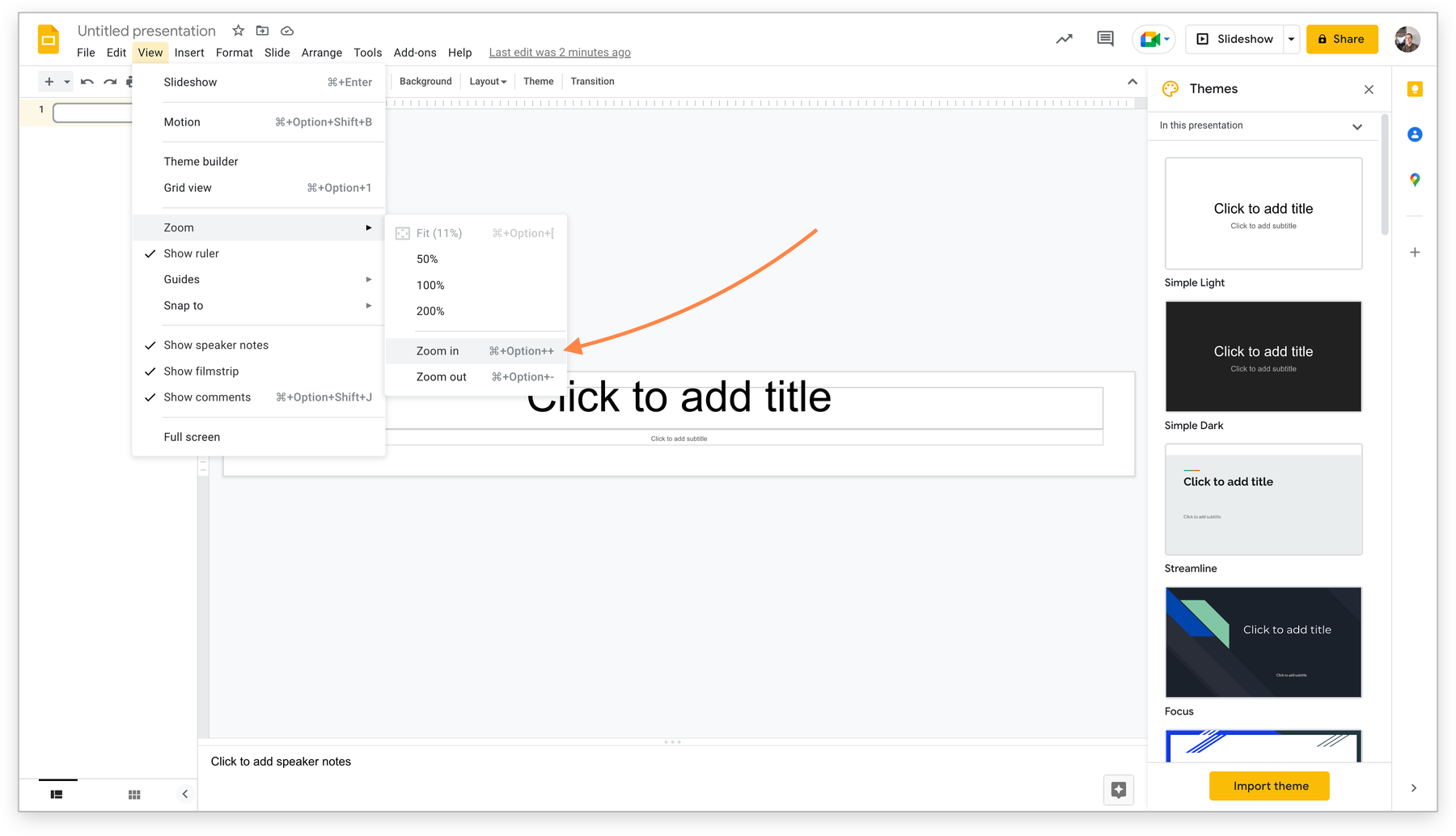 Preview your presentation
You're now ready to start building. To preview your presentation slides, including transition and animation elements, live videos and embeds, animated GIFs etc, press the Slideshow button in the top right.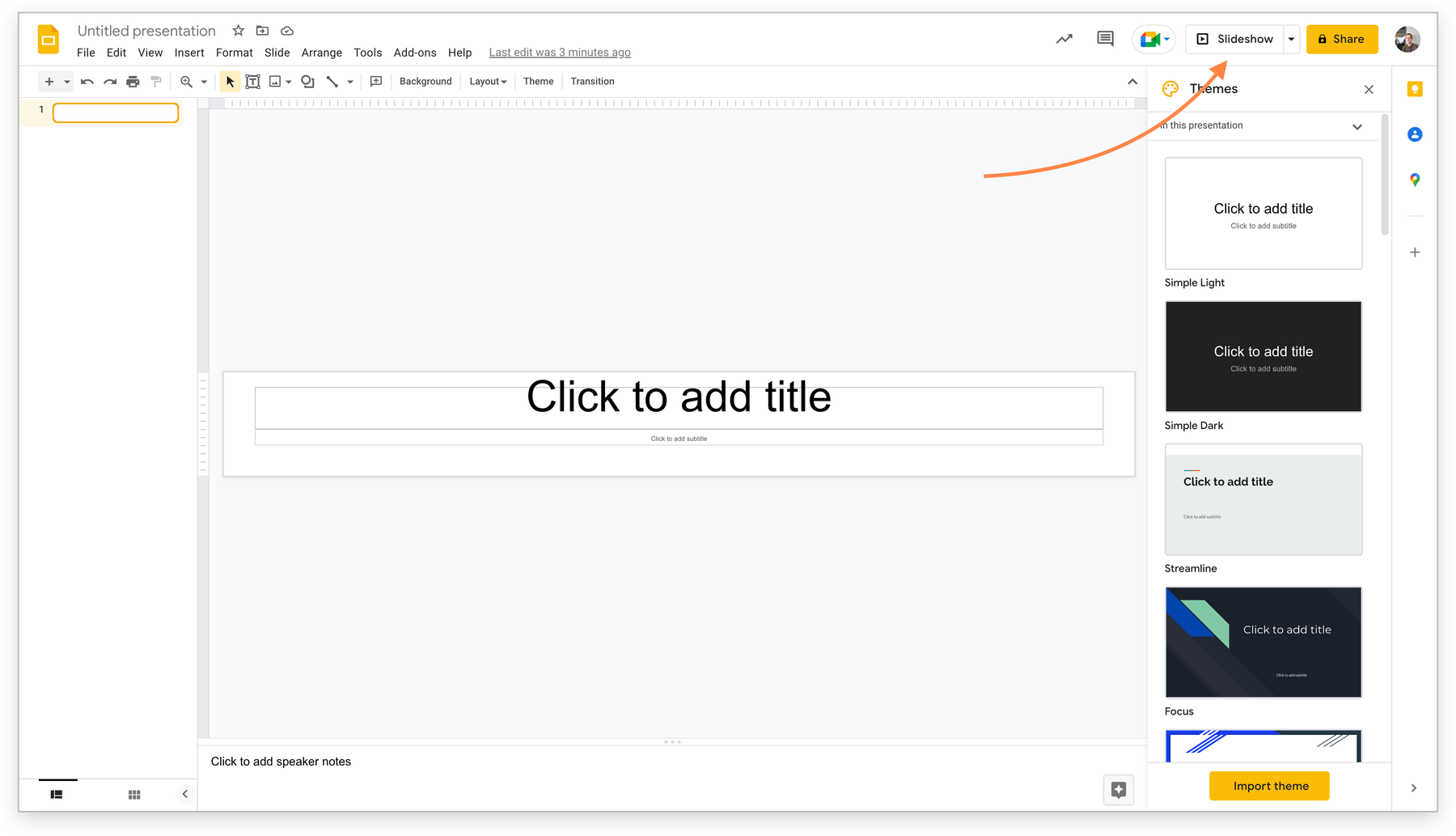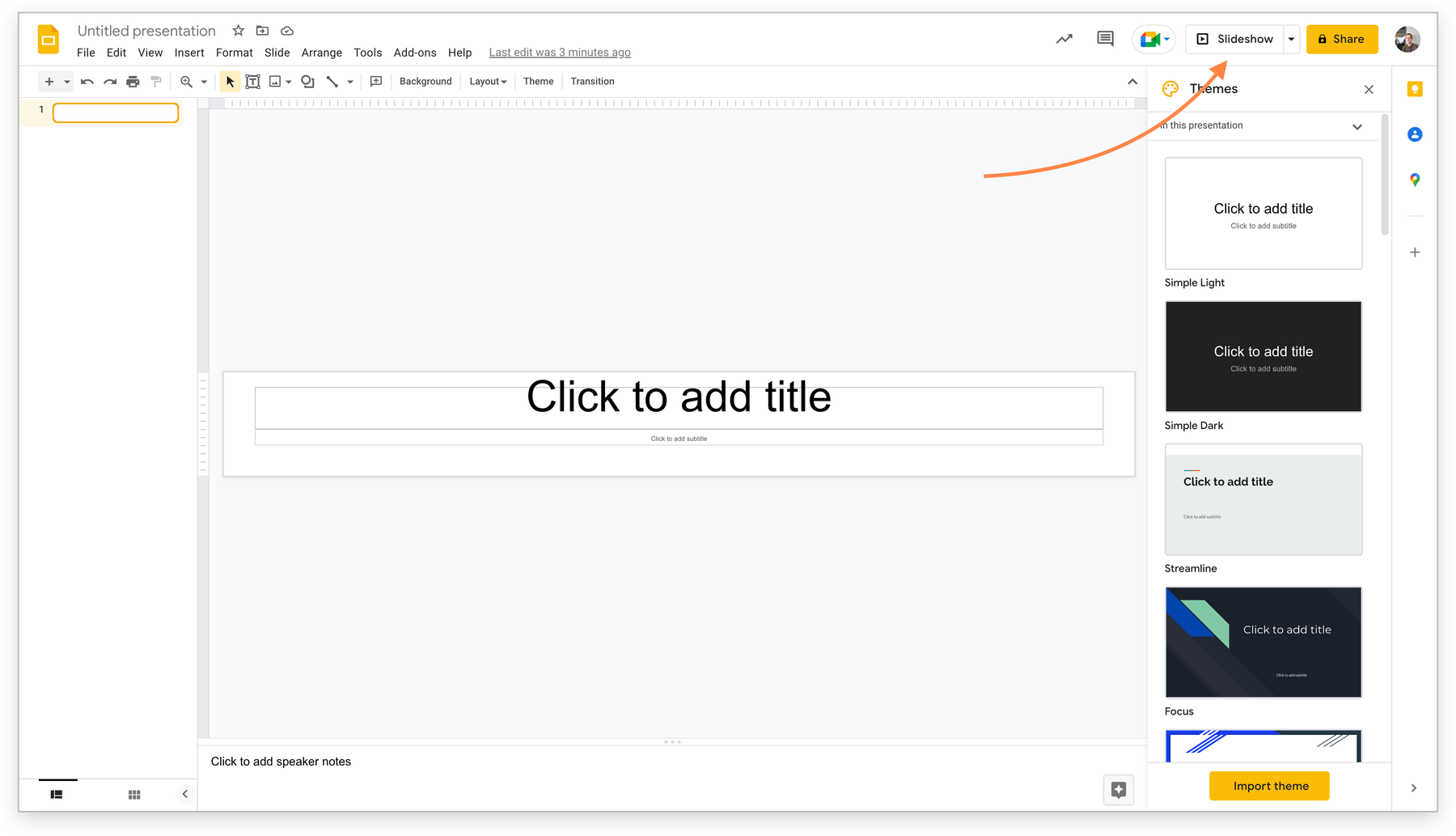 Prepare for the Data Arena
Because Google Slides is a 100% online service, bringing your work to us is as simple as sharing a link. When you're ready, select File → Publish to the web. Review the settings provided (default is fine) and press the yellow Publish button to generate a share link. Note: the auto-advance slides settings only apply when an "autoplay" mode is activated. By default, clicking is used to progress through your slides as you'd expect.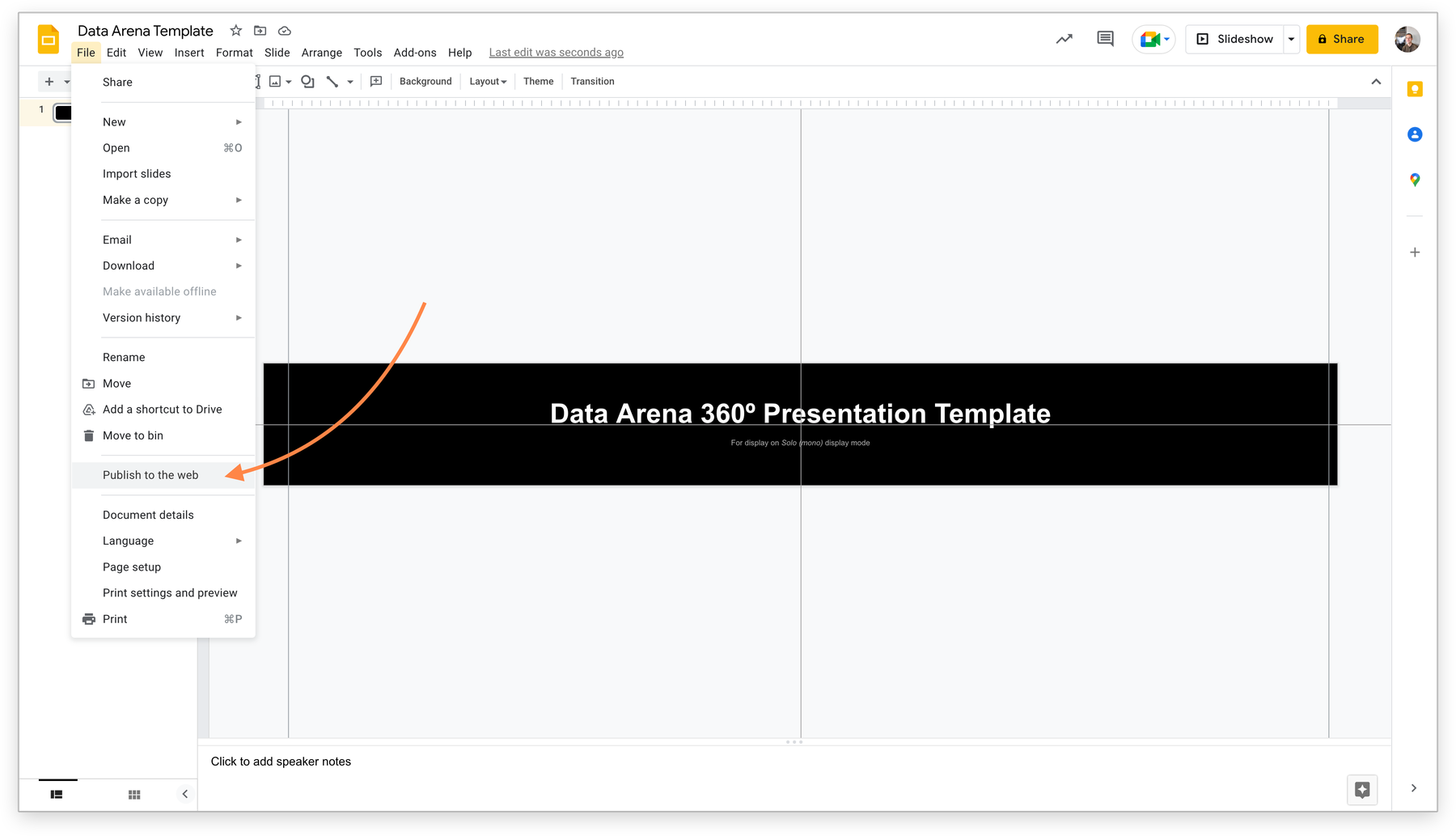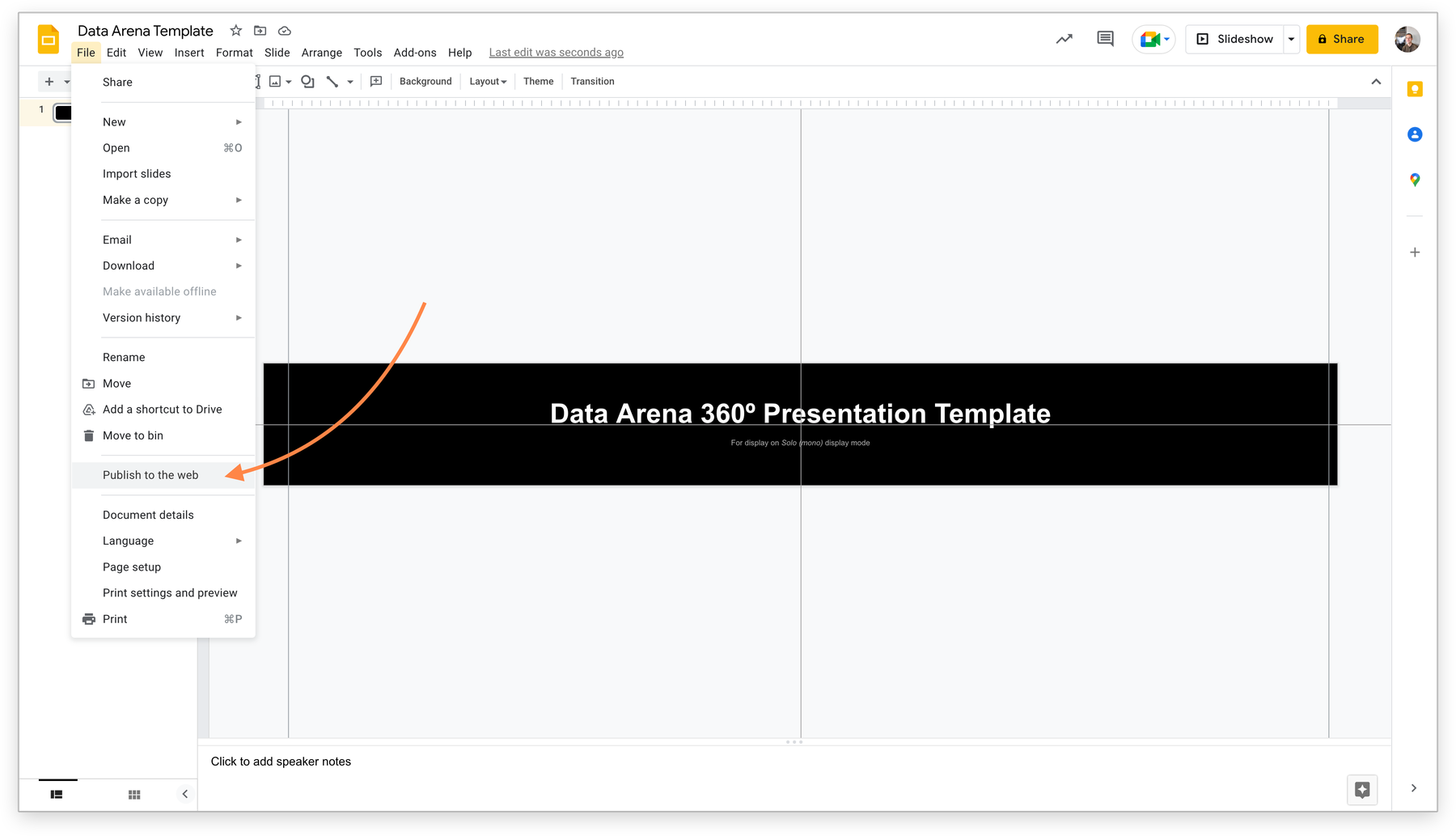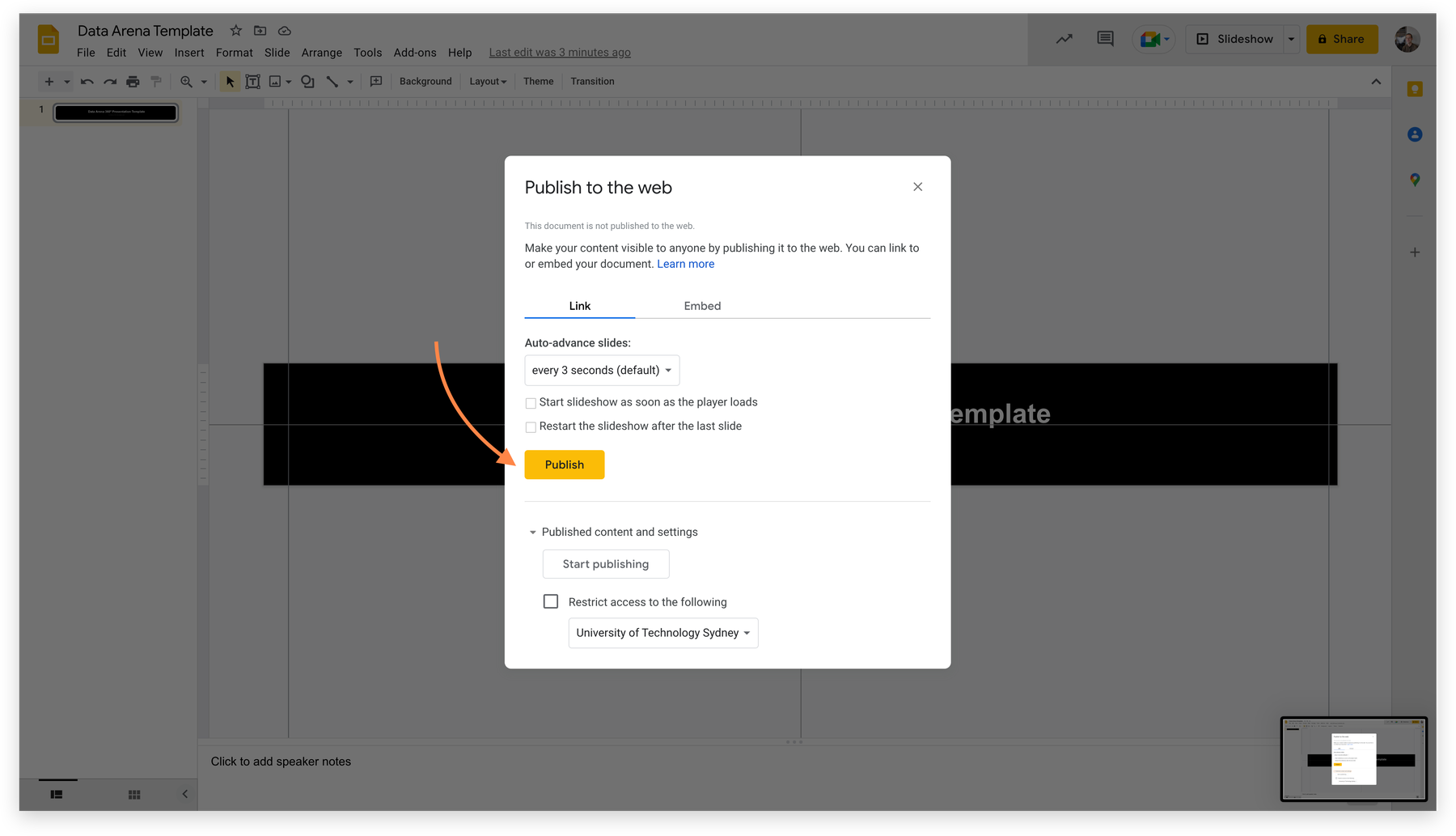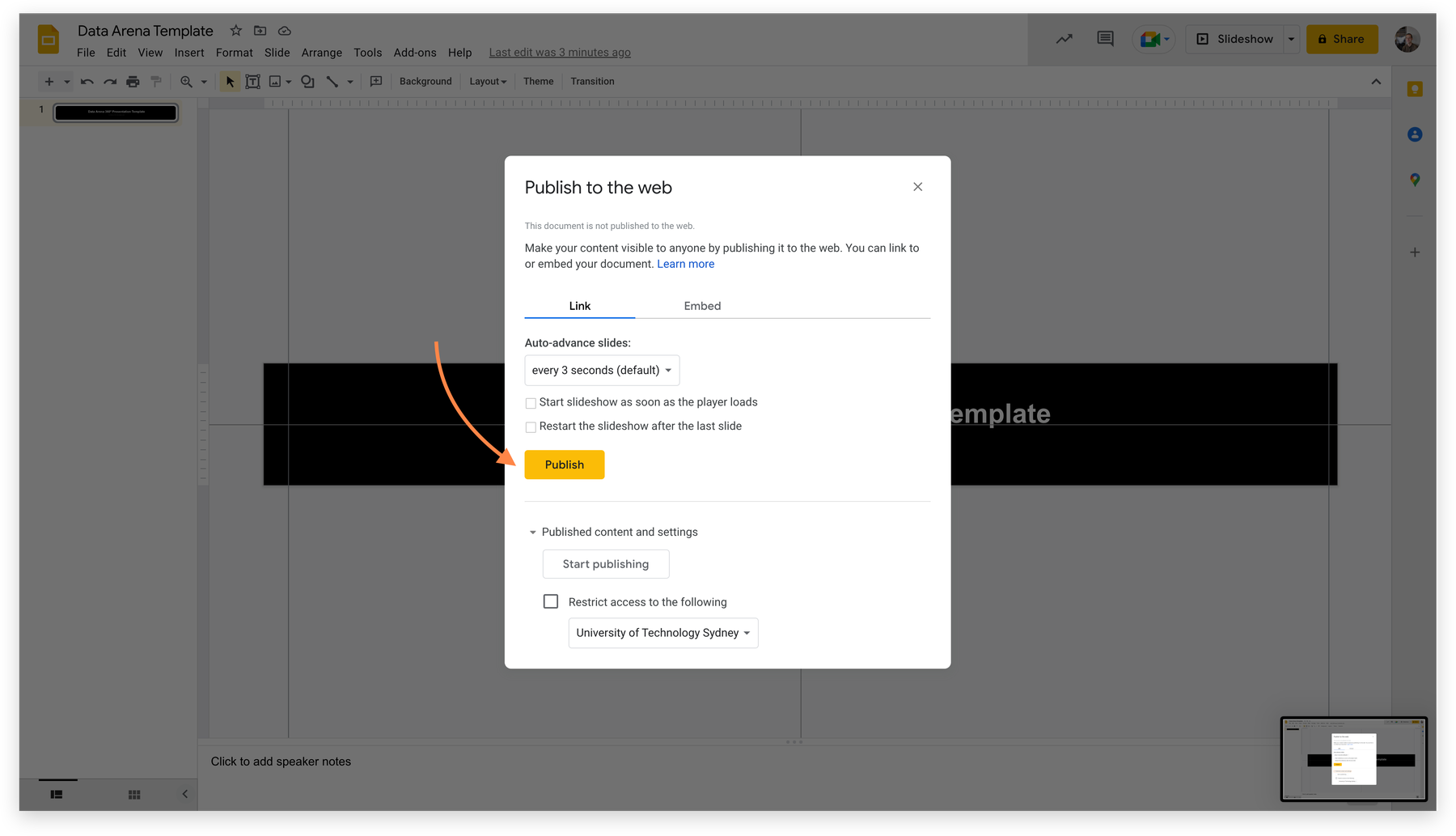 View in the Data Arena
To view your work in the Data Arena, we simply need to open this URL that you generated. You can send us a copy of this link, or keep a copy online somewhere you can access. On Solo, set the display system to solo.mono and open this link in a new Firefox or Chrome window. We're currently (at time of writing) working on a script to make this even easier which will be ready soon.